Are you looking for a way to make your business stand out at the next expo or sales event that you attend? Do you want your logo represented proudly at the next Gala you put together? If so, then you need to learn all that you can about investing in custom tablecloths.
When it comes to custom tablecloths, the most common question we get is "What size custom tablecloth for a 6-foot table is the best fit?" We've got you covered (pun intended)!
See below for an in-depth guide that answers any questions you may have about custom tablecloths made for 6-foot tables.
What to Look for in a Custom Tablecloth
First things first, before you hunt down the right size of tablecloth for your table, it's important to factor in several other aspects of the custom tablecloth that you seek.
When done correctly, custom tablecloths can help you increase brand awareness, intrigue new customers, and tie the entire setup together. But what should you look for in the custom tablecloth that you purchase?
First, look for options that allow you to customize its look. Here at Custom Banner Lab, we have three different custom tablecloth options that can fit your desired aesthetic—more on those in a moment.
Does the custom tablecloth come in a variety of different colors? Do they have the ability to print your logo on the custom tablecloth? Do they offer it in different sizes? How quickly can they create your custom tablecloth(s) and send it to you?
Next, you should look at opportunities for bulk pricing. If you're going to be purchasing several of the same tablecloths, you might as well save money in the process!
Lastly, cheap custom tablecloths are not always better. Like most things in life, you get what you pay for. Cheap custom tablecloths will likely mean poor quality and even poorer customer service.
Are all 6-foot tables the same?
Here's the good news: the materials that your table is made of won't affect the sizing of your custom tablecloth. It can be wood, plastic, or some other material and our tablecloths will fit it like a glove!
Most standard 6-foot event tables have the same dimensions: they are 72" wide x 30" tall x 30" deep.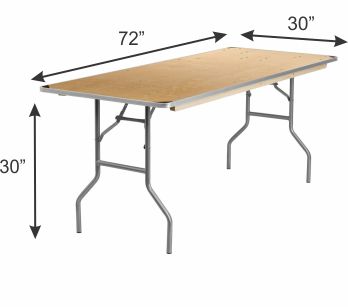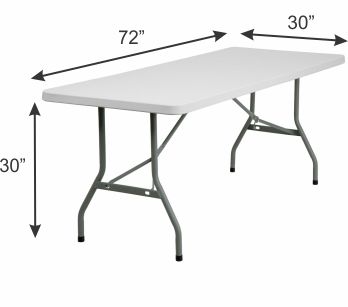 This universal measurement is a great benefit to you! You can invest in custom tablecloths and use them for almost any 6-foot table from this day forward. Every time you do, they'll fit the same as they did at other events.
One important note, make sure that you consider the height of the table. Too many company owners focus on the depth and width of the table, but not the height. As a result, the custom tablecloth ends up being too short on the sides, allowing people to see underneath. If a table is labeled as COUNTER HEIGHT, then it is likely 42-inches tall rather than 30-inches. This will definitely affect the fit of your custom tablecloth.
A properly-sized custom tablecloth can benefit you in many ways during your event, such as:
Allowing you to make your logo bigger, so that it can be seen clearly by all on your custom tablecloth
Giving you the option to store items for the event underneath the table (and be readily available)
Creating a professional aesthetic for your brand
The 3 Best Custom Tablecloth Options for Your 6-Foot Table
Now, to answer your original question: What size custom tablecloth for a 6 foot table? Below are your 3 options which include schematics and dimensions for reference.
Stretch Open-Back Tablecloth
For those of you that don't like the appearance of a loose tablecloth, our 6' stretch open-back tablecloth is the perfect solution. It's tight-fitted to the table, with your company's logo screen-printed on the front.
The dimensions of this custom tablecloth ensure a compact and organized appearance. Keep in mind that this custom tablecloth is made of a 180 gsm polyester fabric, to give it that sleek look everyone loves.
Our Stretch tablecloths are also available for 4-foot and 8-foot folding tables. We can dye sublimate your logo in 4 different sizes. The table also has an open back, so that your staff can stand behind it comfortably.
Below are the exact dimensions of our 6-foot stretch tablecloth that will fit a standard 72"x30"x30" 6-foot table: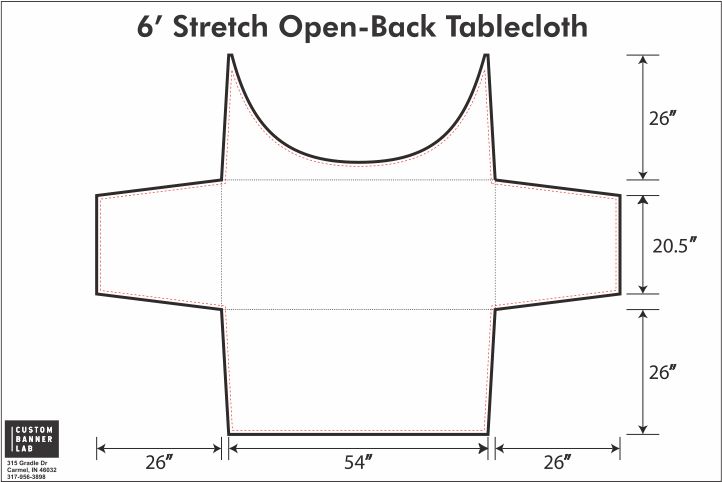 4-Sided Closed-Back Tablecloth
For a more traditional draped table covering, nothing beats our 4-sided closed-back tablecloth. This is the classic 4-sided draped custom tablecloth that falls to the ground on all four sides of the table.
All of our 4-sided custom tablecloths are dye sublimated with your custom logo. Ordering one is as easy as possible with our online process. You can make your selections and complete the purchase from our website, then upload your logo.
We'll send you a digital proof of your design within 24-hours of your order, then send it straight to production after you approve the digital mock-up.
Below are the exact dimensions of our 6-foot 4-sided custom tablecloth that will fit a standard 72"x30"x30" 6-foot table: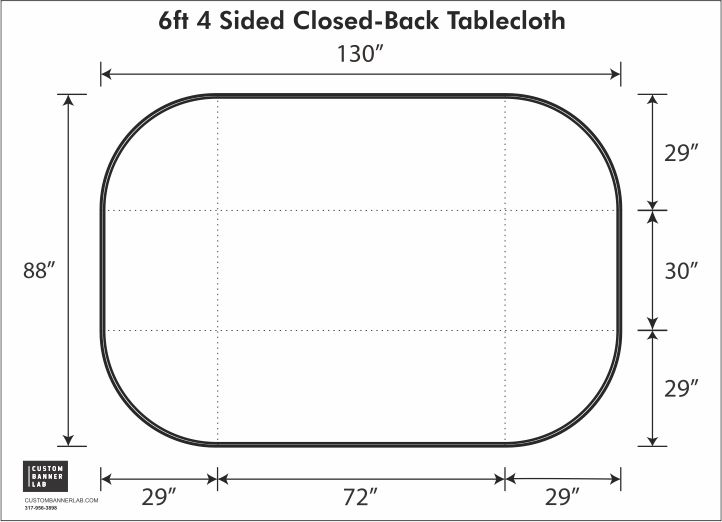 3-Sided Open-Back Tablecloth
If you want the loose-fitting draped custom tablecloth look, but want to have an open-back feature to make it more functional for your team, then check out our 3-sided open-back tablecloth. These are also dye sublimated with your custom printed logo.
With the open back, you'll be able to sit comfortably behind the table or store items (such as marketing collateral or promo items) that can be easily retrieved. The polyester twill gives you access to a high-quality material that will keep it looking professional and colorful for years to come.
Better yet, our 3-sided open back custom tablecloth is wrinkle-resistant, ensuring that your logo is always the focal point of the display.
Below are the exact dimensions of our 6-foot 3-sided tablecloth that will fit a standard 72"x30"x30" 6-foot table: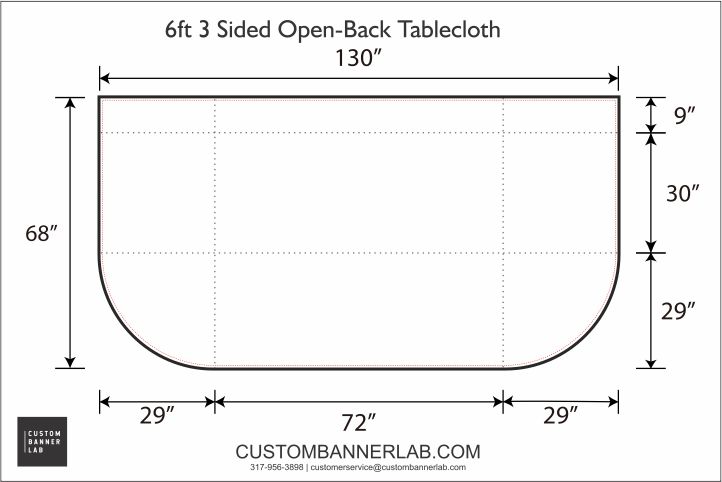 What Size Tablecloth for 6-Foot Table: Find the Best Fit
Now that you've seen an in-depth answer to the question of, "What size custom tablecloth for a 6-foot table is best?" be sure to let us know what questions you still have. We're available by phone (text or call) or LIVE CHAT in the lower right hand corner of our website.
Take the time to read this article for more information on 6 tradeshow game ideas that will entice more attendants to visit your table. To get started, please call or text us at 317-956-3838 and we'll be happy to assist you further.