Trade shows are a $14.9 billion industry and are getting ready to grow by 30%. Imagine all of the new business that you can generate by getting even just a piece of this pie.
You can do some serious damage at your next trade show when you bring your secret weapon with you. What weapon might that be, you ask? Two words... Tradeshow games.
Even business-minded adults enjoy good old-fashioned fun, and you'll be the life of the party and a networking titan when you try out some quality tradeshow game ideas. We've got some hot options for you, and best of all, you can order them right this second.
Put your tradeshow game ideas to the test by considering these options that you can buy on Amazon.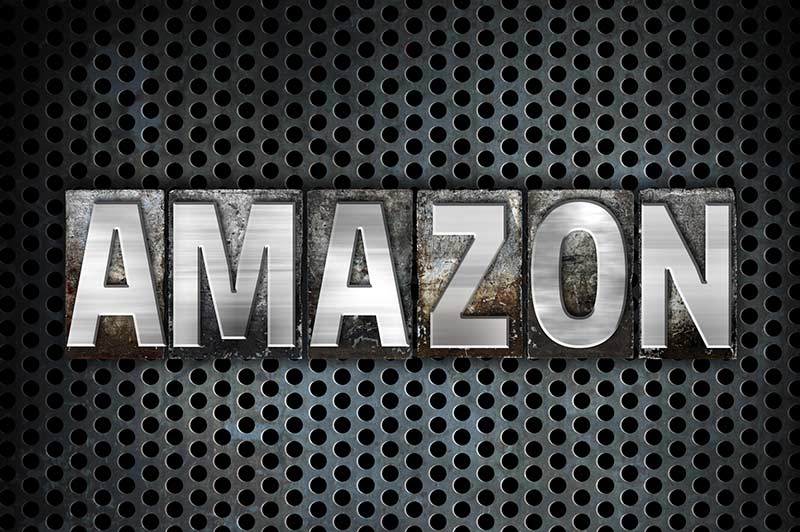 1. Put a Spinning Prize Wheel to Use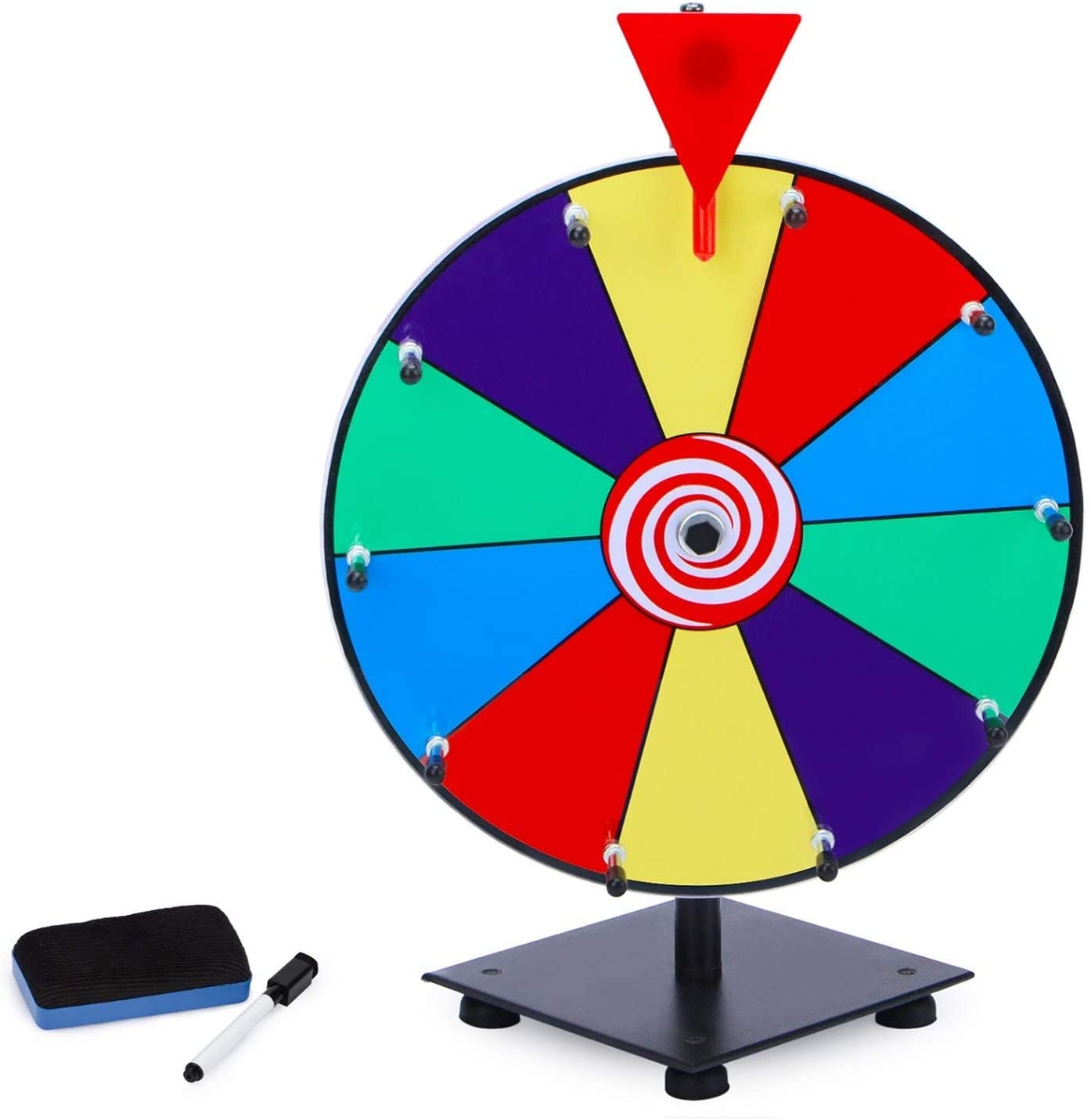 Attention is everything at a trade show. Everything from the tablecloth to the banner has to draw people to your booth or area.
You'll turn heads and stop people in their tracks when you have a large spinning prize wheel. It features a multi-colored spinning wheel that features a large red stopper. You can include multiple prizes on each color category that people will try for.
If you know anything about color psychology, you know that exposing people to different colors can change moods and create responses and reactions. This option is great no matter your tradeshow game budget, and will make people feel like they're contestants in a game show.
Feel free to include some of your company's services as a prize. For example, a marketing company might include something like a month of search engine optimization (SEO), and a professional coach might offer a free half-hour consultation.
Get creative and use this wheel to your advantage.
PURCHASE THIS GAME HERE: https://amzn.to/3yn30fQ
2. Circulate Golden Scratch and Win Tickets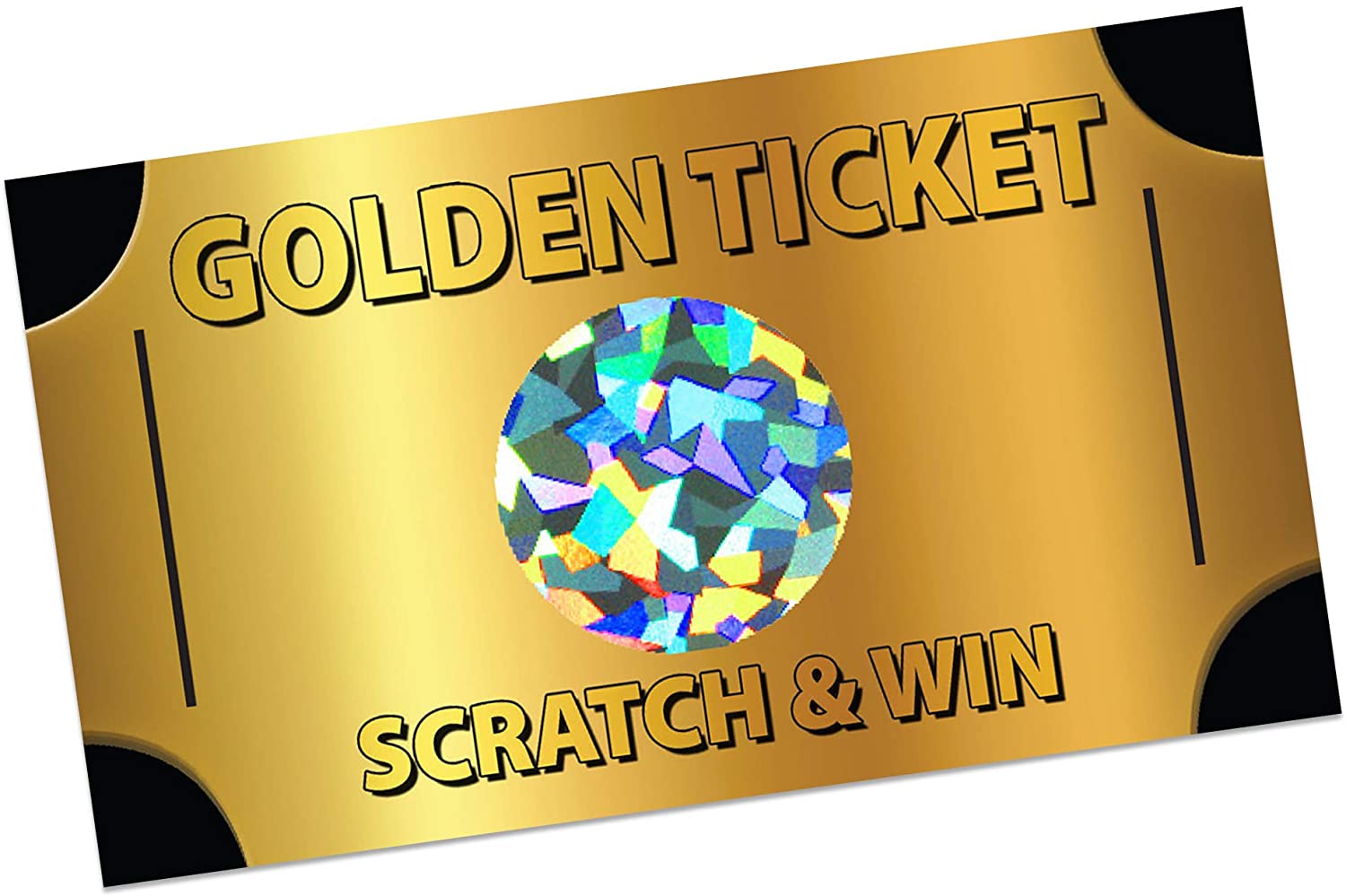 Whether you're a fan of the Roald Dahl book "Charlie and the Chocolate Factory" or the Willy Wonka movie, it's clear that the idea of the illustrious golden ticket is etched in all of our memories.
Offering golden tickets is one of the best tradeshow game ideas for booth traffic at your next convention because it will stimulate peoples' imaginations and take them back to their childhood.
You can get a golden ticket scratch-off game on Amazon that reveals prizes that trade show attendees can win. This is perfect for a raffle entry to win some swag. The set that you purchase on Amazon will come with 5 winner cards and 25 "Sorry, not a winner" cards to mix things up a bit.
PURCHASE THIS GAME HERE: https://amzn.to/3GSd4Az
3. Set Up a Portable Drop Zone Mini-Game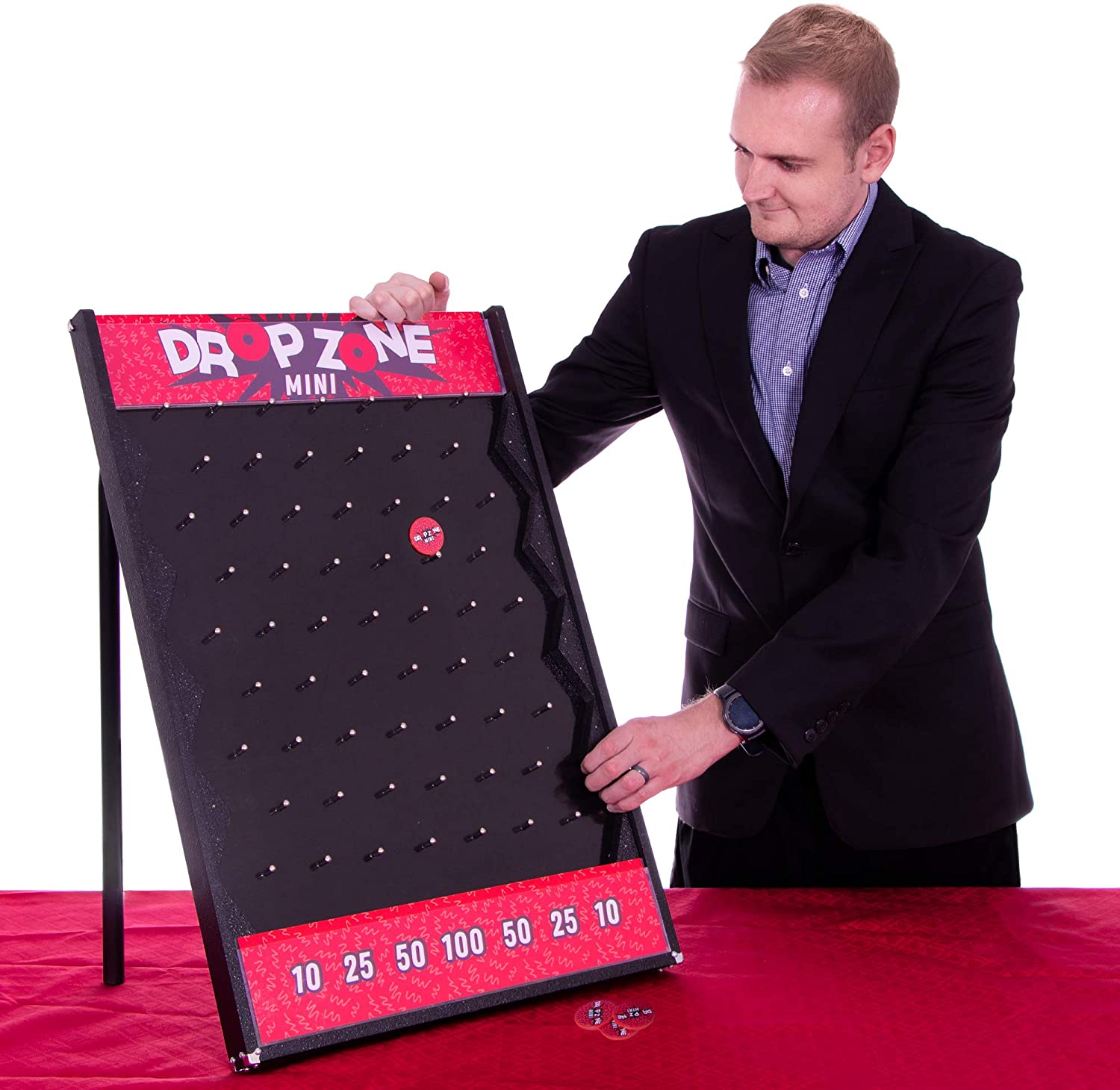 Once again, you can never go wrong with gameshow-style games when kicking around games for tradeshow booths. If you've ever watched The Price is Right, you've definitely seen this portable drop zone game in action.
This particular board comes with several sets of steel pegs and ten discs that you drop from the top. Depending on where the disc drops, it'll bounce around and finally land on one of the prizes at the bottom.
The bottom row consists of numbers 10, 25, 50, and 100 in ascending and then descending order. You can include prizes are play money to correspond with these numbers to give attendees the chance to win big.
PURCHASE THIS TRADESHOW GAME here: https://amzn.to/31Sbn6M
4. Clear Out Space for Bean Bag Toss Games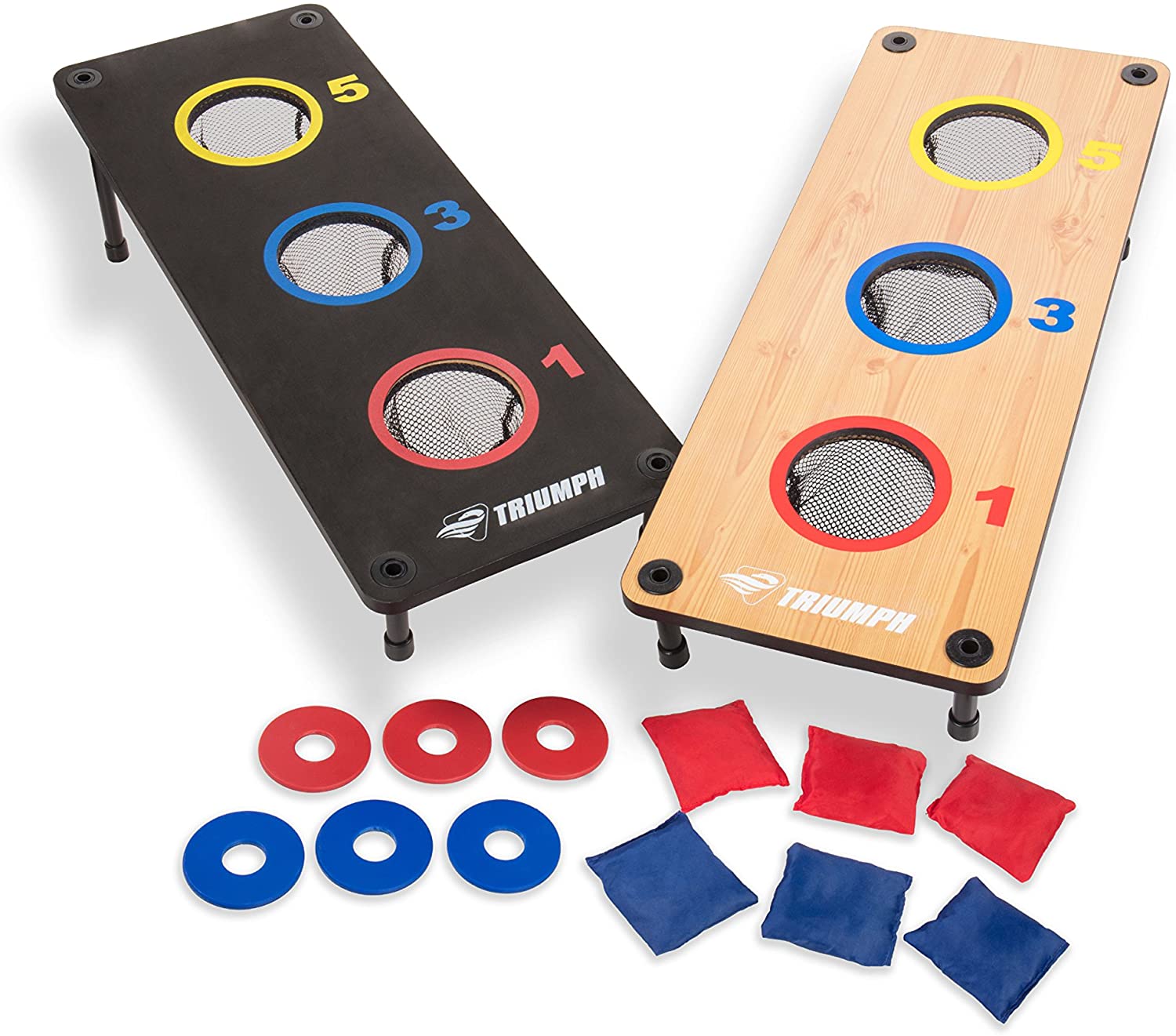 Bean bag toss is always a crowd favorite. The set sold on Amazon comes with two competing boards of different colors.
They feature red and blue sets of bean bags and large washers that people can throw into three different holes. The closest and easiest hole is 1 point, the middle hole is 3, and the furthest hole is 5 points.
You'll have people lining up at your booth to play this long-time party fixture. The washers and bean bags are easy to retrieve thanks to the included nets, and you won't have a problem carrying it from one place to another since it weighs just .1 pound.
PURCHASE THIS TRADESHOW BOOTH GAME IDEA HERE: https://amzn.to/3DN6vgs
5. Get Some Sticky Ball Dart Games Going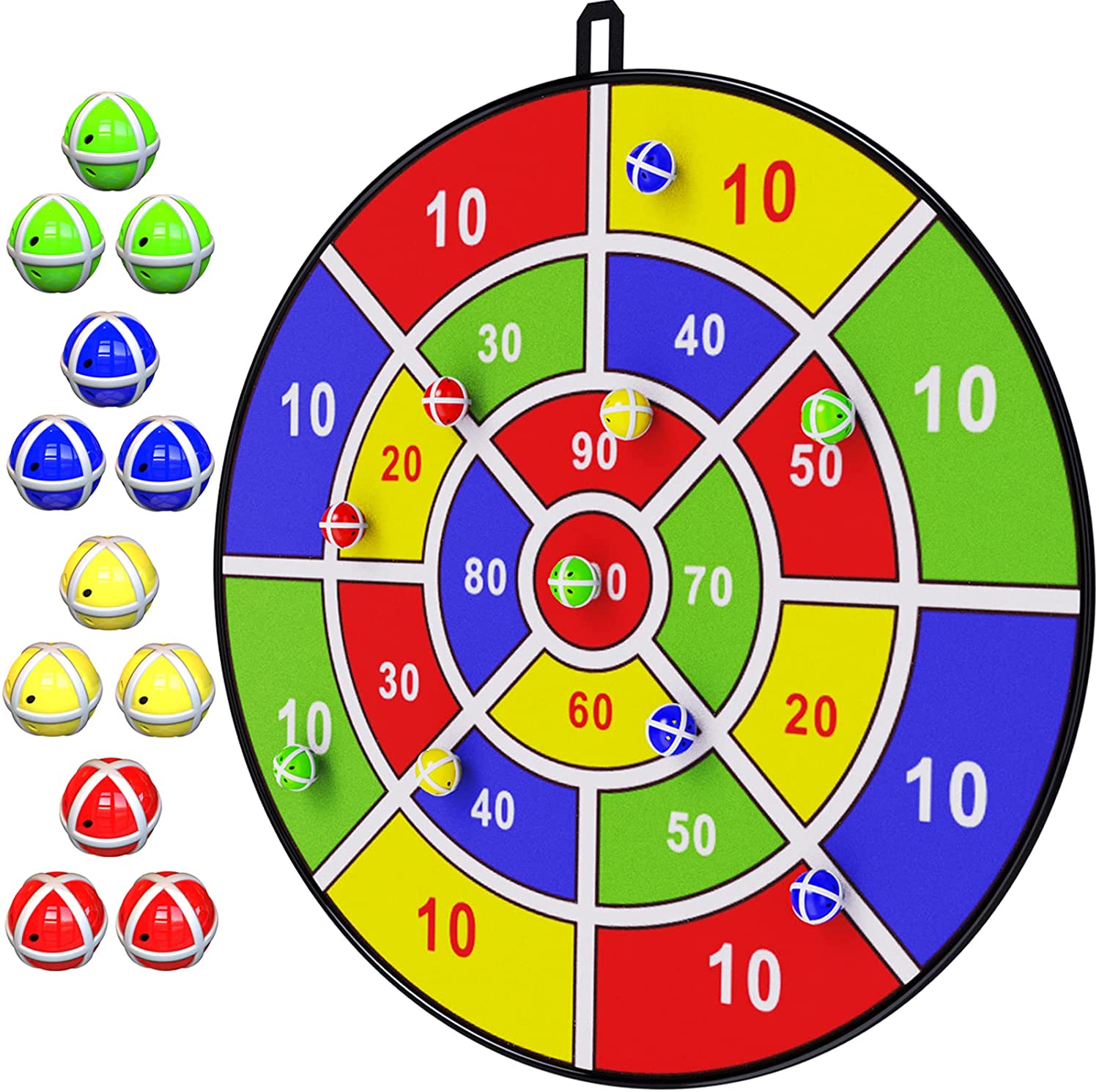 Sticky ball darts will also get the competitive juices going. This particular board sold on Amazon features multiple color patterns with red, blue, green, and yellow, and several ways to score.
The bullseye is worth 100 points, while outer layer sections have points from 10 to 90 depending on the difficulty. The game looks a lot like a Simon Says game, and is safe to place since the balls are adhesive rather than pointed metal darts.
PURCHASE THIS GAME HERE: https://amzn.to/3GF9yJl
6. Let People Shoot Targets With Dart Guns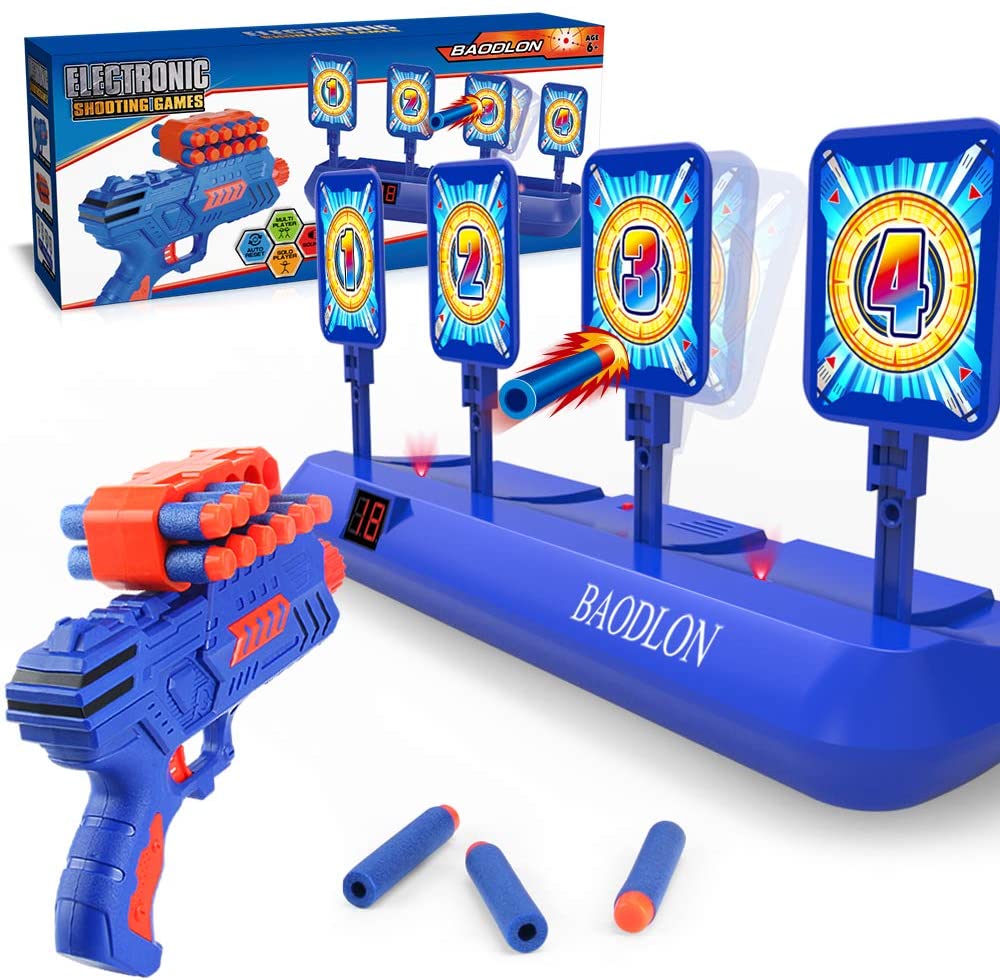 Finally, take the time to offer people a little target practice. This game features plastic guns that shoot soft darts at digital targets. The targets pop up intermittently and tests people's reflexes and aim.
Once a target gets hit, the score is automatically updated. The player with the best score at the end of the time limit wins. As you might imagine, this game can draw in plenty of people and can become an icebreaker for people looking to network and form new relationships.
PURCHASE LINK FOR THIS TRADESHOW GAME: https://amzn.to/3EJZYo6
Add These to Your Tradeshow Game Idea List
The six examples presented in this article need to be high on your list of tradeshow game ideas. Since they're available on Amazon, there's no reason you can't get them in time for your next bid trade show event.
Custom Banner Lab will take care of the rest. We have supplies of all types that will help you achieve your goals. If you need tradeshow banners, tablecloths, tents, flags, or anything else, text or call us at (317)956-3898.
*All links in this article are Amazon affilaite links and if you purchase one of the linked items CustomBannerLab earns a small affiliate commission. This commission does not cost you any more.