Let's face it, there are a lot of options online when it comes to a logo table cover and custom table covers. It's hard to know which one is the best value and you don't want to spend your money on something that ends up not meeting your expectations. A logo table cover is a depiction of your brand and is often the first thing potential customers see at a live event—a customized trade show tablecloth, for example. It is important to choose the right one!
BROWSE OUR MOST POPULAR LOGO TABLE COVERS by clicking the image below!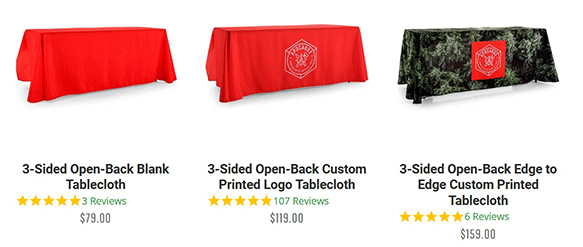 In this Logo Table Cover Buyer's Guide, we'll outline several things you need to know when purchasing a trade show table cover with logo. By the end, you'll better understand everything you need to about buying a custom logo tablecloth.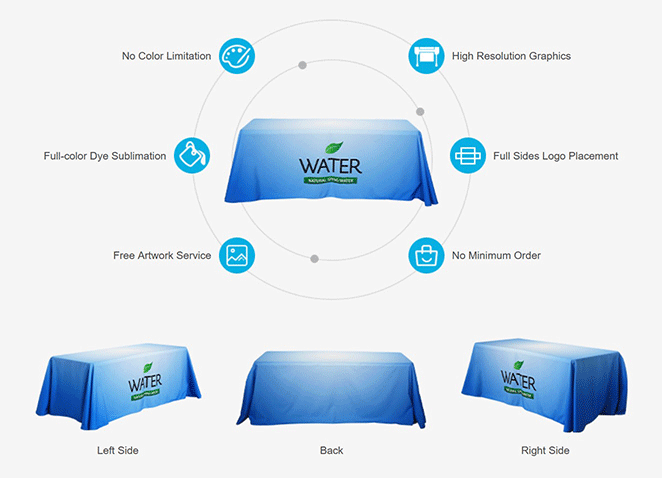 FIRST, the custom table cover size.
When it comes to choosing a custom table cover size, it's important to know exactly what type and size of table you'll be using it on. Tablecloth sizing is typically based on stand folding table sizes. A very common question we get is " What size tablecloth for a 6-foot table?" Because the tablecloth dimensions can look really confusing, it's best to ask "What is the exact size of table I'll be using?" Almost every custom logo tablecloth on the market is made to fit standard folding table sizes. The most common folding table sizes are:
6 Foot Table: 72-inches wide x 30-inches deep (front to back) x 30-inches tall
8 Foot Table: 96-inches wide x 30-inches deep (front to back) x 30-inches tall
In 99% of the cases, you'll be given one of these 2 sizes at your event venue for your custom trade show tablecloth. 4-foot table also exist but are far less common. If you order a folding table online or from a local retailer they will likely only have folding tables in these sizes. Taking your own table to an event is a hassle but at least you'll know exactly what size table you'll be using for your custom logo tablecloth.
Don't get hung up on the dimensions of a logo custom table cover. You can see by the diagram below that they are a little confusing. With custom logo tablecloths from CustomBannerLab, at least, you don't have to worry about the tablecloth dimensions. You just need to know that you'll be using a standard size table. If you know that, then our tablecloths will fit it. Our 6-foot Custom Logo Tablecloths, for example, will perfectly fit a standard 6-foot folding table. The same is true for our 8-Foot Custom Logo Tablecloths with an 8-foot folding table.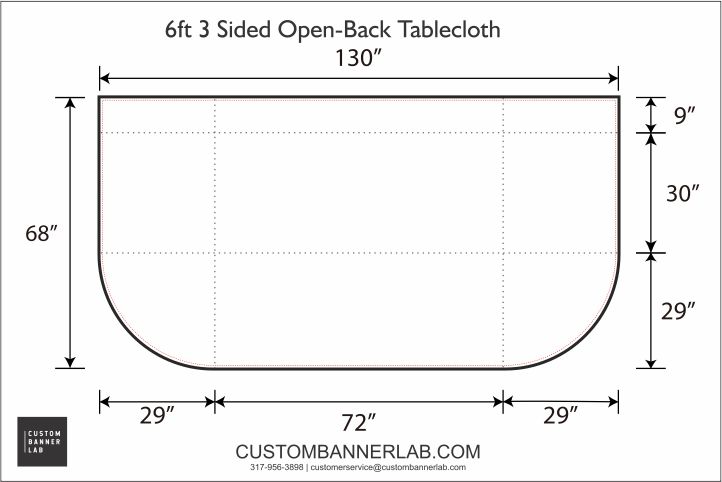 SECOND, is Fabric Choice.
When it comes to logo custom table covers, NOT ALL PRODUCTS ARE CREATED EQUAL. Unfortunately, you can't see fabric quality in an internet photo. For example, you may have already made the mistake of ordering a table cover of some kind from Amazon. If so, you've likely found that the fabric is thin, see-through, full of wrinkles, and an overall horrible presentation of your brand and business. The old adage of "You get what you pay for" is certainly true when it comes to trade show tablecloths.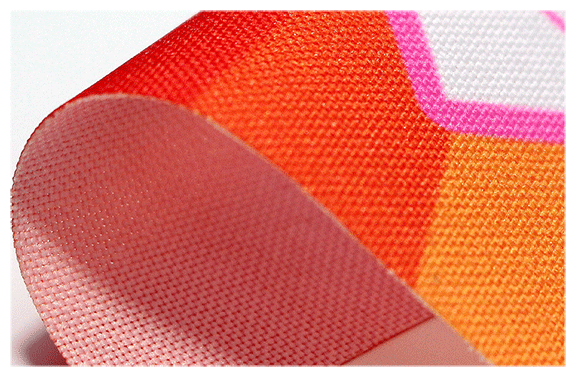 There are a few things you are looking for when it comes to fabric for your logo custom table cover. Each feature is detailed below:
POLYESTER: You want your fabric to be a polyester. It is the most wrinkle resistant and is the only fabric option available for dye sublimation printing (detailed later). Unfortunately, there are many different weights and quality grades of polyester fabric. NEVER order a cotton fabric tablecloth. It will always be wrinkled no matter what you do!
FABRIC WEIGHT: The perfect weight for your polyester custom table cover is around 170 gram weight. This thickness wears well, washes well, drapes well, and is fairly wrinkle resistant. The logo custom table covers we sell here at CustomBannerLab are all right around this weight.
STAIN RESISTANT: You should inquire to make sure that your polyester fabric is treated with a stain resistant coating. This is a process done at the factory that provides an additional layer of protection against drinks, coffee, food, or ink that may be spilled on your tablecloth at a live event. When you spend $100+ on a custom table cover, the last thing you need is it being ruined by stains from clumsy patrons.
WRINKLE RESISTANT: While no tablecloth is truly 100% wrinkle resistant (except our Stretch Table Covers), a tablecloth with a fabric weight around 170 g will present very well. When we set up at our own events, we always bring a small hand-held steamer to quickly steam away any wrinkles that may have happened during travel. This may be something you want to consider packing in your trade show tool-chest.
FIRE RETARDANT: This is a fabric quality that few people think about, but one that is often required by most event venues. If you want to be 100% compliant with each and every venue then this is something you'll want to make sure you get. This is also a process that is done at the factory. All of our logo custom table covers and other dye sublimated display products here at CustomBannerLab are treated with a fire retardant treatment so you don't have to worry about this.
THIRD, is the type of PRINTING.
You definitely need to make sure that your custom logo is being printed using a process called DYE SUBLIMATION. Dye Sublimation is by far the best printing option when it comes to custom logo table covers. This process is full color, vibrant, and long lasting. DO NOT order custom table covers where the logo is screen printed or heat applied. For various reasons, these applications are inferior and often more expensive. Both of these methods also have serious limitations when it comes to colors and logo detail.
Below is a great example of a dye sublimated logo custom table cover that we recently made for one of our customers. This kind of detail and print quality isn't available with any other printing method. Dye sublimation also allows you to print the tablecloth with a custom graphic from edge to edge or have a tablecloth color that is entirely unique and custom.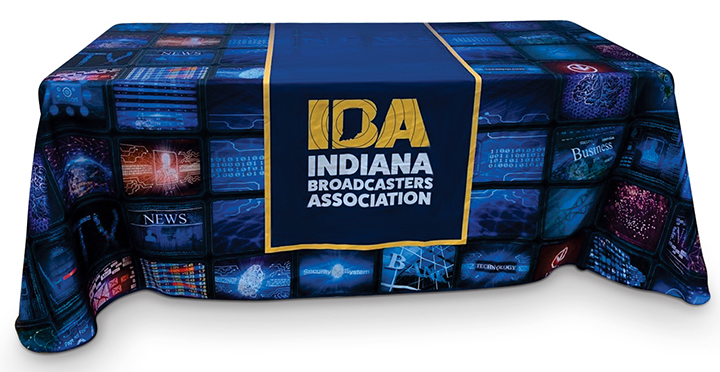 As you can also see below, dye sublimation works equally as well with simpler graphics. Whether you are looking for a custom logo tablecloth with a 1 color graphic on the front or a full color pattern throughout, dye sublimation is the printing method of choice. We dye sublimate all of our fabric products here at CustomBannerLab.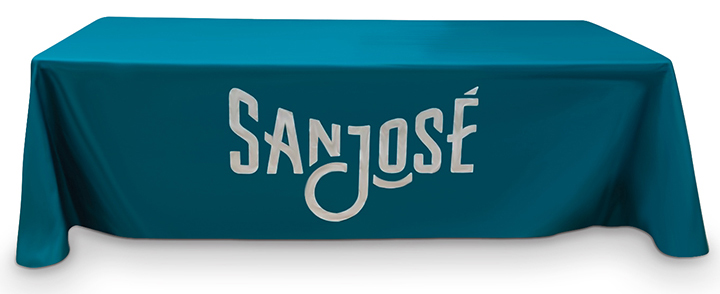 FOURTH, is the PRODUCTION TIME.
What good is a custom trade show tablecloth if you don't get it on time?????
When it comes to production time, we can only speak for ourselves. On any given day our logo table cover production time is around 24-36 hours + SHIPPING TIME. However, this can increase during peak seasons. No matter who you order your custom logo tablecloth from, you should inquire about CURRENT PRODUCTION TIMES if you are on a really tight deadline. Each customized tablecloth is digitally prepped, printed, sewn, finished, folded, packed, and shipped by a real human so this is a process that takes many steps and time. It's always a good idea to give at least 2 weeks of lead-time when ordering a custom logo tablecloth.
FIFTH, is the PRICE.
Don't look for the cheapest customized tablecloths. Trust us, you'll get what you pay for. For a good quality, dye sublimated tablecloth you can expect to pay between $150 and $225. This price point is not only affordable for you, but also allows margins for the manufacturer. There's a lot of work that goes into a custom printed tablecloth, and a lot of hands that touch it during the production process.
However, if you're ordering a larger quantity of tablecloths (10+) then it isn't out of line to ask for a BULK DISCOUNT. We offer bulk discounts on large customized tablecloth orders all the time. Whether to one of our chain bank customers or a branch of the military, bigger orders means a better price. If you're considering a bulk order of custom table covers, don't hesitate to reach out with details and request special bulk pricing. These prices are quoted on a case-by-case basis. You can call us at 317-956-3898, email at customerserivce@custombannerlab.com, or LIVE CHAT at the bottom of the screen. We'd be more than happy to quote your bulk tablecloth order!
FINALLY, is Customer Reviews and Testimonials.
When ordering any customized tablecloth for your business or brand, it is critical to look for previous customer testimonials and reviews. These will often tell you everything you need to know about the company and custom logo tablecloth. If a website doesn't have a customer review section then that is a big RED FLAG that should concern you. However, if their website is loaded with product reviews then you can get a really good idea of what to expect if you place an order. Our custom printed tablecloths at CustomBannerLab have 100s of client reviews to look at. Below are just a couple: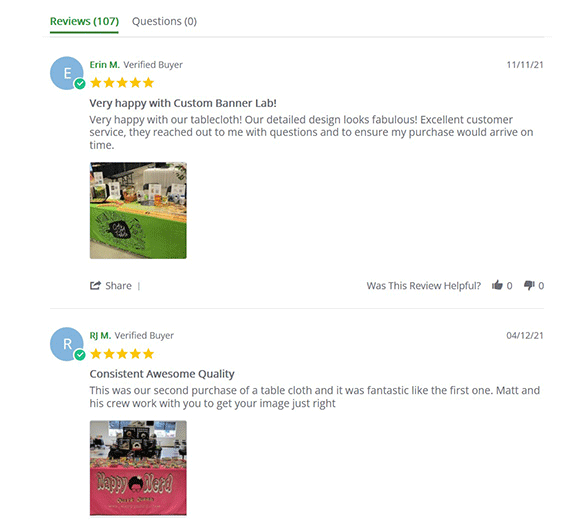 CONCLUSION
If you've made sure to check off the above items when purchasing your logo table cover, then your new tablecloth should:
Pass all requirements for any event venue
Be 100% MACHINE WASHABLE
Last for a very long time
Be affordable
Store well
Be UV protected
Look bright, vibrant, and crisp
Be wrinkle free
AND be delivered ON TIME for your big event!
To place an order for a logo custom table cover from CustomBannerLab, please visit our tablecloth category page here: