CUSTOM DIRECTOR'S CHAIR
Every major project where you work with a lot of people will usually have a director or supervisor will have a need for custom directors chairs. These are great chairs suitable for a variety of different situations. They are perfect for a movie director, but at the same time they can work perfectly for makeup artists, trade shows, podcasts as well as movie sets. It's the type of product that everyone will like to use because it's versatile, professional and it helps bring in the right solutions and value that you may need. The true focus is on quality and professionalism, and it will push the boundaries in a very rewarding manner.
Custom Directors Chairs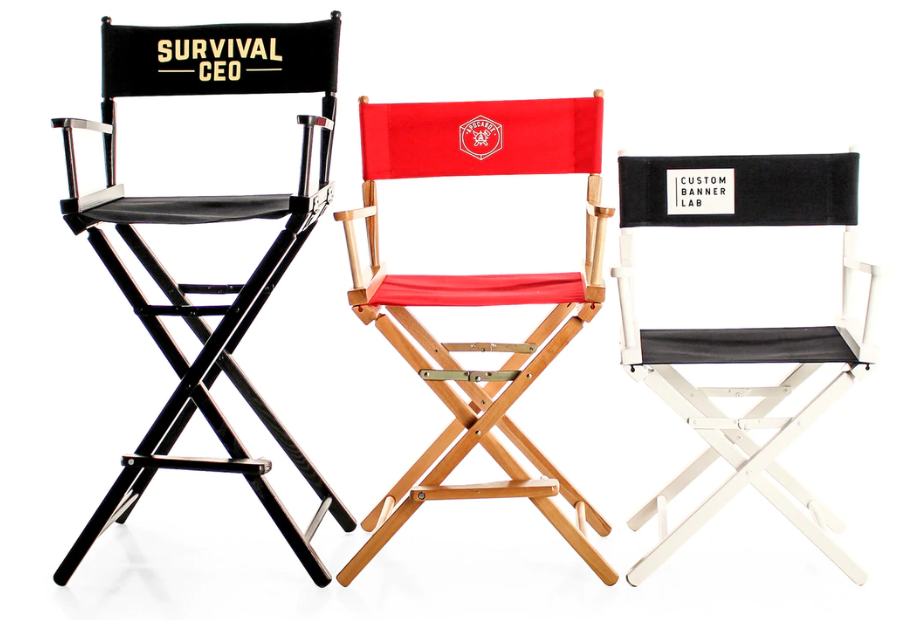 Why is it important to have custom directors chairs?
Each one of the custom directors chairs Los Angeles has its own set of features and benefits, so you have to wonder which is the better option. That being said, you shouldn't rush at all. You need to focus on value and quality, but at the same time you want a unit that's sturdy. The custom directors chairs back needs to be embossed or printed with the project name or director name. It's a standard practice in the movie business, and a lot of people do it. That being said, it does push the boundaries quite a lot, and you will appreciate the unique value and attention to detail.
The first director's chair was presented at the Chicago World Fair in 1892. At that time, it was a very interesting and innovative product. There were a lot of innovations in every industry, and during that time there was a requirement for casual furniture. As soon as the movie industry took off, these chairs continued to become more and more popular to the point everyone wants them.
Right now the custom directors chairs Los Angeles are widely sought after and they continue to bring in a very interesting visual appeal and incredible quality. That's what makes everything so distinctive and different all the time, which is exactly what you need.
Custom Directors Chair Canvas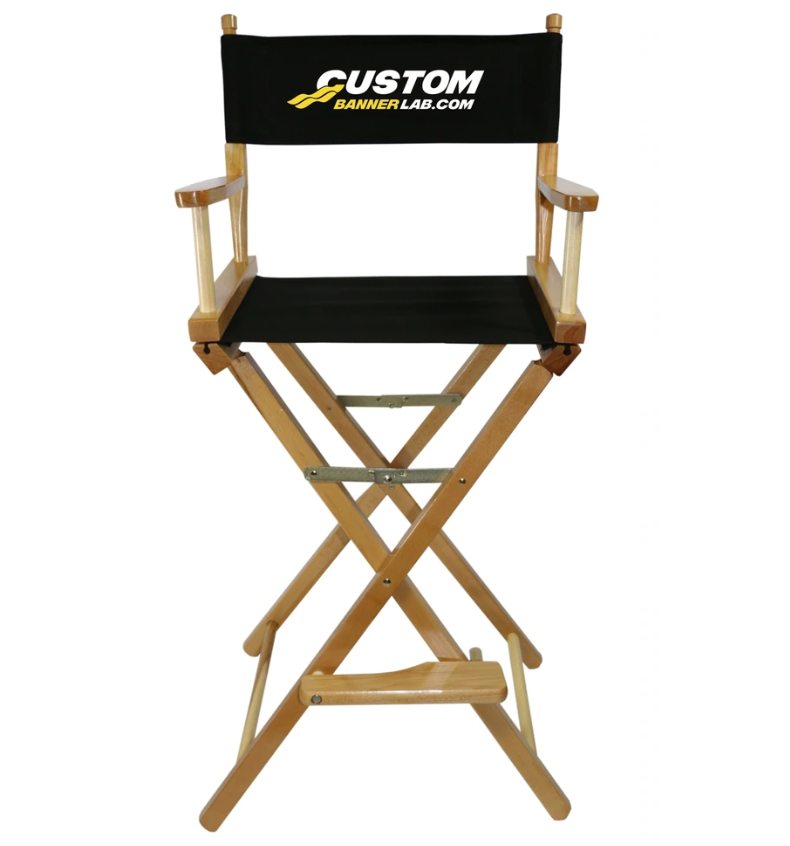 What will you use the custom directors chair for?
When you want to buy custom directors chairs Los Angeles, the first thing you need to figure out is what you want to use it for. Will you use it for trade shows, movie sets, podcasts, make up? Every option is valid here, but it's up to you to just take your time and understand what works for you and what suits your needs the most. That's what will give you the efficiency and results you expect.
On top of that, you want to make sure that the custom directors chair suits your project's style. Adding in the director name, even the logo for your project can really make things special. It's all about adding in that extra touch that really pushes the boundaries in a very rewarding and powerful manner. That's what really takes things to the next level all the time.
Select the right canvas and fabric for your custom directors chair
What you will need to focus on with the custom directors chairs is the material itself. You always want to make sure that you gain access to the right materials needed here. The main materials you can use are wood and aluminum. Having rust resistant powder coating is very helpful, and high quality wood will also come in handy. Implementing stainless steel hardware will boost the durability and efficiency of the product, and that's what makes it so versatile and professional at the same time.
Since these are custom chairs, you are able to select if you need any logo on the back or anything similar. It helps immensely, and you will appreciate the unique quality and attention to detail. The CustomBannerLab custom printed director's chair is amazing and it brings in some extraordinary benefits. Here you are indeed getting an amazing value for money, and the outcome can be extraordinary.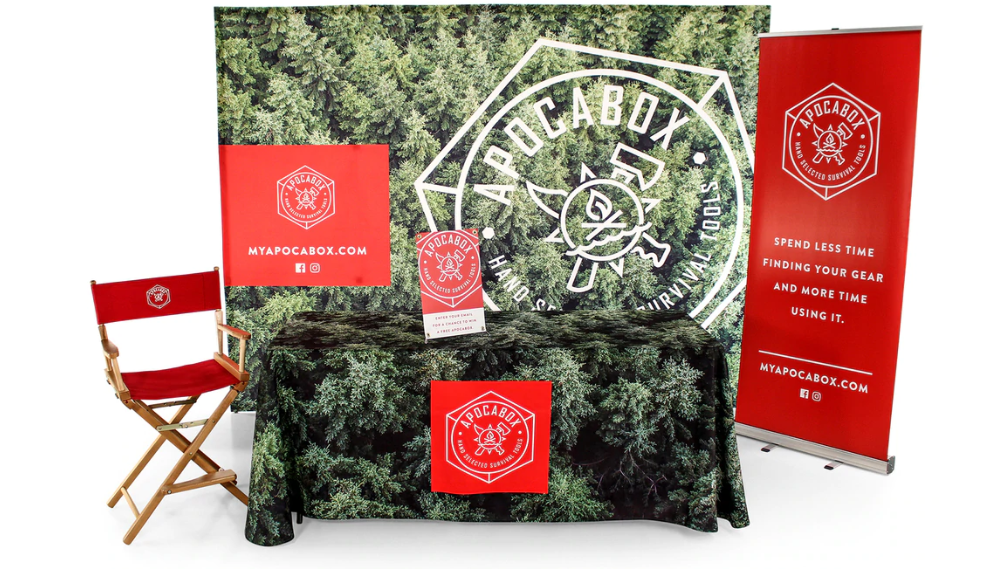 Do you need any special custom directors chair covers?
Since most custom directors chairs tend to be made out of wood or sensitive materials, having a cover does make a lot of sense. It brings in some incredible results and benefits, and the quality you get is among some of the best. You will be very impressed with the protection your chair can receive, and you get to protect your investment too, so everyone wins in a situation like this.
The covers can also be colorful. You can go with a regular white cover, or you can use black as well as a vast range of colors. This is great because it offers you a lot of variety and quality, and in the end it's helpful for you as a whole too. That's what you want to make sure, that your investment is protected and with his approach you are getting a really good value and quality for the money all the time.
Are the custom directors chairs durable?
The CustomBannerLab custom directors chairs are designed to be very dependable and durable. They can withstand up to 500 lb or even more, a testament to the high quality materials used for the product and outstanding quality. We recommend you to give it a try for yourself, and you will be very impressed with the resilience and outstanding support you get for this type of product. It just doesn't get any better than this, which is why you have to at least test it out for yourself.
USA-made product
What makes the CustomBannerLab director's chair unique is that this is an American-made product. It uses the highest manufacturing standards on the market and you will appreciate the quality, craftsmanship and attention to detail. The manufacturer's guidelines have been the same for more than 115 years, and the product itself is made in Tennessee. Everything is made by hand, and it will offer you the efficiency and quality you need at the best prices on the market.
Due to the complexity brought by this type of product, it will take anywhere from 2 to 3 days to create a single unit. Everything is fully polished and created according to state of the art guidelines. It helps bring in a much better experience and value, and the results themselves will be nothing short of impressive. The orders can't be rushed, so we recommend you to place your order ahead of time. That's because you are always getting a very good, high quality product, yet it takes time to manufacture it properly.
The thing to note here is that the custom directors chairs Los Angeles are perfect for trade shows. They are also something every actor and director need on the movie sets. It's important to note that the chairs have a foot pad, custom shaped arm pads for comfort and contour legs. All of it adds up to deliver a very comprehensive, professional experience you will enjoy. The quality is always unlike anything that you can find on the market, and you will appreciate the resounding return on investment.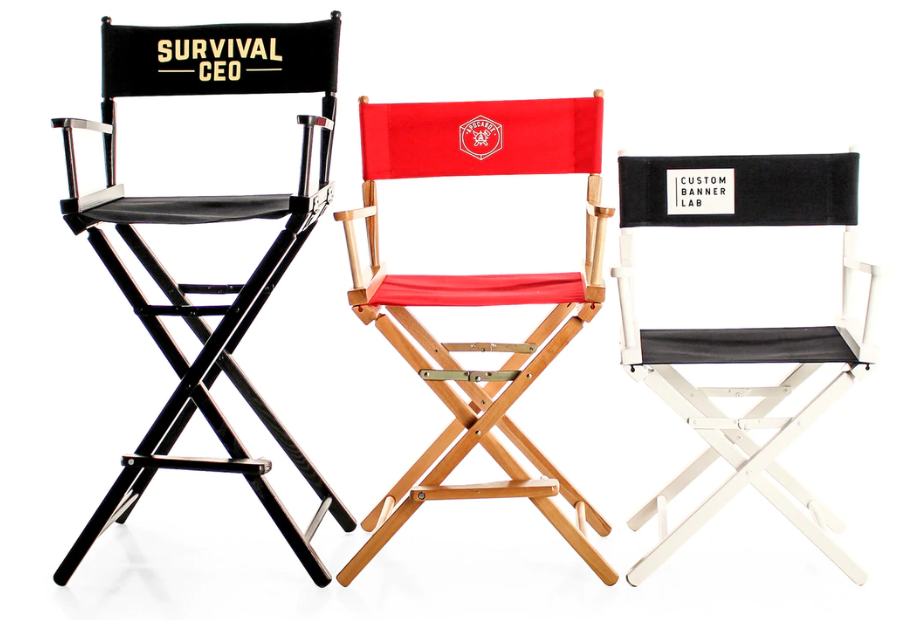 Adding your logo on a custom directors chair has never been easier
One of the reason you want to use custom directors chairs is for branding, With CustomBannerLab you are getting a very good value for money, since they can easily integrate any logo, name or anything you need. The company is printing full color and multi color graphics. Ideally you will need to send a 150 DPI EPS with all the text being converted to outlines. The product is printed in CMYK, and the results are aesthetically pleasing at all times.
After placing the order, you will receive confirmation with a link where you are able to upload the artwork. After the artwork is received, you will receive another email that has a digital proof, you need to approve this and the order will go into production. The entire process is designed to be as simple as possible, making it easy for you to customize the director chair in any way you want. Keep in mind that high quality graphic files are preferred, to ensure that you obtain the best possible results.
Is the custom director chair easy to set up?
The custom director chair is designed from the ground up with the idea of installing it very quickly. You will need to store the chair in a dry area, ideally without the custom director chair back canvas. That you can add when you plan to use the chair. The reason is simple, canvas can be very sensitive, and if there's any sign of humidity, then there can be severe issues to deal with and you just want to avoid that as much as you can. Keeping the chair away from dirt and grime is also very important, so the maintenance process is just as important as the setup itself.
Speaking of maintenance, it's imperative to clean up the canvas as often as possible. It will give you the resilience and efficiency you need, and the quality itself is among some of the best. That can really push the boundaries and bring in a unique outcome. It's recommended to air dry the cotton slings. You don't want to add them in a heated dryer because they can shrink. You will need to remove the heavy weave mesh slings from the chair and then use mild soap and water to wash everything off. The entire system is very convenient, and it brings in powerful benefits and a very good experience.
What custom director chair size should you choose?
The table height director chairs usually have 18". These are the entry point most of the time, and they will be suitable for a vast range of projects. If you want something a bit taller, you can go for the 24" models. You can also find 30" models too, depending on the situation. These are tall, so they usually have a step suitable for easy standing and sitting. You will be at eye level with most people around you, making it the perfect for a variety of different situations.
Should you choose a certain color?
Since you want to make your director chair different, adding a distinctive color does make a lot of sense. You will notice that most custom director chairs Los Angeles tend to be black. That being said, since you are creating a custom unit, you can bring it to life with your own ideas and colors. You can find green, black, red, blue custom director chairs and many other colors. You are free to choose the desired color based on your needs. The frame colors can also differ, they can be natural, walnut or a variety of other options based on your needs.
Do you need printing or embroidery?
Depending on the situation, you might be able to access that. If the embroidery option is not available, then you will be able to access custom printing. It's still a very good option, and one that brings in front extraordinary results. All you have to do is to find the right vision for the product and handle it accordingly. The experience can be astonishing every time.
Conclusion
Creating your own, custom director chair has never been easier. You can get your name on the custom director chair back and you can even have a dedicated cover built for it too. This helps showcase your branding, all while bringing in a unique way to express yourself with different colors and messaging. It's a unique approach and one that works very well.
The CustomBannerLab custom director chair stands out of the crowd with the incredible quality, unique attention to detail and outstanding experience. It really is one of the top products on the market and you will appreciate the results you get from it every time. Give these products a try for yourself, pick the right one to suit your project's needs and you will be very satisfied with the results. You can get all kinds of custom work done on the chair to really make it your own. Avail this opportunity and give the CustomBannerLab custom director chairs a shot today!