The goal of any trade show is to drive sales, and one way to do that is with a trade show tablecloth. Trade show tables are often the first thing people see when they enter your booth. If you want them to take notice, then it's essential that you use tablecloths that will attract more customers! In this article, we'll cover everything you need to know about trade show tablecloth ideas that will help bring in more foot traffic.
Why Do I Need A Tablecloth?
The main reason to get a tablecloth is that it will make your trade show booth appear more professional and polished. When you're at the event, there's no way for customers to know how long your company has been around or what kind of services you offer unless they stop by your display. A clean and attractive-looking tablecloth can help set up that impression from afar, so people are intrigued when they walk past! In addition, the more you can get others to stop by, the more potential clients you'll have that will stop at your booth.
What Are The Benefits Of A Tablecloth?
If you're unsure why you need a trade show tablecloth, let us help you out! There's a reason why companies repeatedly choose to showcase unique tablecloths at their tradeshows instead of showing up with a plain table. The benefits of choosing a trade show table cover include:
Looks More Professional: One of the most apparent benefits is that it will make your display look more professional. If customers see a tablecloth, they automatically think, "This company cares about how their booth looks," which can lead to them becoming interested in what you have to offer.
Simple Way To Glam Your Trade Show Booth: Using a tablecloth is also an easy way to upgrade your trade show booth without too much effort. You can get unique and eye-catching patterns that will leave people wondering how you got such a great-looking display so easily!
Helps Your Table Top Materials To Stand Out: Another benefit of a trade show tablecloth is that it will help your materials stand out. If you have an eye-catching design, the last thing you want to do is hide it behind a boring black or white tabletop. A colorful and unique cloth helps bring attention to the items on top, so people notice your booth!
Easy To Transport: One of the great things about trade show table covers is that they are much easier to transport than other solutions. Table show tablecloth fabric can easily be folded into small spaces for transportation purposes without wrinkling before arriving at the event.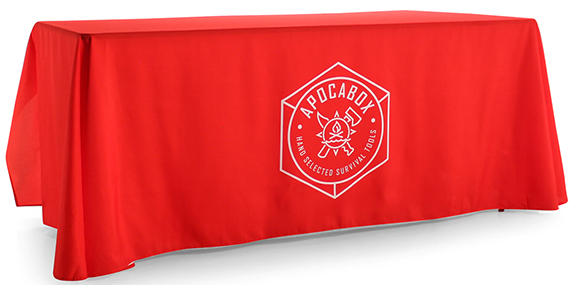 The Top 5 Tablecloths You Need To Know About
Now that you know why a trade show tablecloth is essential, it's time to look at the best options out there! There are hundreds of choices when it comes to fabrics and patterns. To make your decision easier, we've put together our list with some unique and eye-catching tablecloths.
1.Barnwood Themed Tablecloths
Themed tablecloths are a great way to stand out from the crowd. Whether you're looking for an ocean-themed design or something more elegant, having a themed cloth can help your booth stand out. A tablecloth is also the perfect way to show off what kind of company vibe you have! Plus, with a themed tablecloth, you have the opportunity to add your logo to the front of it to really help your booth stand out. We personally love this 100% Polyester Barnwood Printed Tablecloth, which is designed to fit either a 4,6 or 8-foot wide table.
2.Printed Table Runner With Logo
If you're looking for something that will make an excellent first impression at your next trade show, we recommend choosing a Printed Table Runner as your trade show tablecloth of choice. It's got an eye-catching design that will get people to stop and check out your trade show booth by featuring the logo of your choice. With tons of colors to choose from, you can easily match this table runner to your brand or the design of your trade show booth. Plus, there's no charge for full-color printing!
3.3 Sided Open Back Custom Printed Logo Tablecloth
When you want to make sure your booth really stands out, use a Custom Printed Tablecloth! With this option, the trade show table cloth is completely customizable. You can choose from different patterns and colors as well as include your company's logo on it. This full-color custom printed design makes for an excellent choice if you're looking to create that perfect first impression at your next event or tradeshow. We love the vibrant printing and wrinkle-free nature of this gorgeous trade show table cover.
4.4-Sided Back Edge To Edge Custom Printed Tablecloth
Looking for a trade show tablecloth that really stands out? This Edge to Edge Custom Printed Table Cover is a perfect choice! It features vibrant printing on all four sides. You can choose from any of our patterns or upload your own image to make it even more unique. We love this option because you get the best of both worlds: A full-color custom printed cloth that wraps around the entire table while still looking incredibly professional and colorful, helping your booth stand out among others at the event.
5.Convertible Printed Logo Tablecloth
If you're looking for a trade show tablecloth that can be used for more than one event, this is the option for you! This Convertible Printed Logo Tablecloth features an easy-to-fold design with eyelets on each side, so it's easily attached to your existing table. Plus, there are tons of designs and color options available, as well as the ability to upload your own logo or choose from our library.
Get The Right Display Materials Today
If you are attending a tradeshow or convention and need some trade show tablecloth ideas, it is essential to have the right display materials. Choose Custom Banner Lab for your trade show needs today! From tablecloths to banners and everything in between, our team can help ensure that you get exactly what you need at an affordable price.
Contact us today if you want more information on how we can improve your marketing by using custom signage for all of your tradeshow needs. With over 30 years of experience creating top-quality products, trust that we know what will work best for your business goals! Shop our full tablecloth collection today.
FAQ Section
How do you attract customers to a trade show?
There are several ways you can attract customers to a trade show. You should always look for unique and creative giveaways or promotional items, such as t-shirts, keychains, tumblers, custom printed hotel key tags, or custom pens, to hand out at your booth. It would help if you also considered creating a unique and eye-catching display that will help you stand out from the other stalls in attendance. For example, using trade show table covers is a great way to make it clear which company has set up shop there as well as helping attendees remember where they saw certain products or services for sale later on down the road.
How do I make my trade show booth interactive?
Making your trade show booth interactive is an excellent way to draw people in and get them interested in your products or services. There are several ways you can do this, such as having a hands-on activity that helps attendees learn more about what you offer. You may also want to consider creating some sort of fun game that gets visitors involved with your brand while they're visiting the trade show floor. If all else fails, having a live speaker or entertainer on hand to help draw people into the booth is something that definitely won't go unnoticed.
What color should I use for trade show table covers?
When choosing colors for your trade show table, it's essential to consider what message you want to send with them. For example, if you are selling food-related products at a tradeshow, then using black and white might be an excellent choice as they're both neutral-colored materials that will work well together in most settings. On the other hand, if you're looking for bolder looks, reds and yellows tend to stand out more than pastel hues which can make all the difference when trying to attract new customers during an event like this.
How can I make my stand attractive?
Customized trade show table covers are a great way to make your stand more attractive. You will also want to look into using other trade show booth accessories, such as portable display counters and banner stands which can help you promote the company's brand during an event like this. When thinking about how best to attract new customers at a tradeshow, it is essential to consider what types of products or services are being offered and how they'll be marketed through various signage materials, including custom banners, signs, and table covers.