Custom fitted table covers transform a boring folding table into a branding machine. A trade show tablecloth can be easily outfitted with your logo to showcase the creativity and skills of your business.
Unlike your standard kitchen tablecloth, fitted printed tablecloths are uniquely designed to fit the table and ensure that your business stands out from the crowd.
No matter how large your table is, custom conference table covers come in a variety of sizes to easily fit your displays.
But once you have fitted printed tablecloths ordered and ready to go, you might be panicking about what to put on top of them!
If you're serious about creating a killer booth at your next tradeshow or conference, you need a complete setup.
Before you hyperventilate into a bag, read the following information. We've outlined a list of how to improve your next tradeshow, which products you can use to complement your custom-fitted table covers and the science behind your tablecloths.
Let's dive right in and see what you need to know about how to properly choose the right table covers for your next event.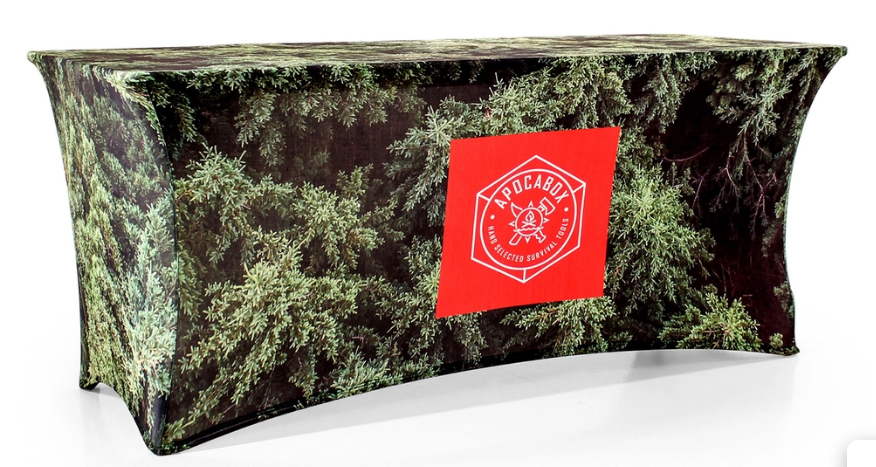 The Art of Custom Fitted Table Covers
Table covers are more important than you might realize.
You can see them used at job fairs, college orientation, college recruitment, health fairs, holiday parties, seminar registration, and of course trade shows!
What makes them so popular?
A large part of their popularity has to do with the precious real estate they take up. They're the perfect location to display a corporate logo, association name, or even mascot.
Making a positive first impression on your potential customers, registrants, or recruits is essential—and custom printed fitted table covers do precisely that.
Best of all, custom fitted table covers are available in multiple sizes to fit virtually any sized table you use.
For example, maybe you want to use a flat table cover that drapes at the corners of the table and hangs down to just an inch above the floor.
A fitted table cover is a bit different, however. It perfectly fits the size of the table you use, and it looks more like a fitted bed sheet instead of a slippery blanket.
You can also think about investing in a stretch fit table cover which is typically made from polyester material and stretches neatly over the table giving it a nice snug fit.
But if you're looking for storage options, you would be far better off purchasing a custom fitted table cover that fits your table and allows you to discreetly place items under your table.
With so many options available, you might not know what's right for you.
We can help.
Our team can walk you through the buying process, but in the meantime, check out the most important points to keep in mind before you buy a trade show tablecloth.
What You Should Keep in Mind Before You Buy a Trade Show Tablecloth
Before you place your order for a custom fitted table cover consider the information below.
The Size Of Your Table
Your table size directly dictates the size of your fitted printed table covers. Some of the most common table sizes for the events and tradeshow industry include:
6-8-foot-wide x 30" tall x 30" deep.
12-16 square feet
You can also choose between 3-sided or 4-sided table covers. What's the difference?
Well, a 3-sided table cover can be customized to fit any sized table, but where it stands out is that it doesn't have coverage in the backside of the table—where you'll sit. This gives you the coverage you need while providing you the option to store plenty of items underneath your table to easily grab promotional items.
The 4-sided table cover is ideal for optimal coverage and marketing. It gives you complete coverage of the table, with limited ability to pull items out from underneath.
Depending on the type of tradeshow you're working, the 3- or 4-sided table cover might be the right option. Think about what's most important to you when deciding between these two options.
No matter what option works best for you, you can leverage it to market your business. Whatever you do, don't just use boring, plain, tables for your show. Maximize every inch of your table to advertise your business!
Next, you'll want to think about the design elements to choose.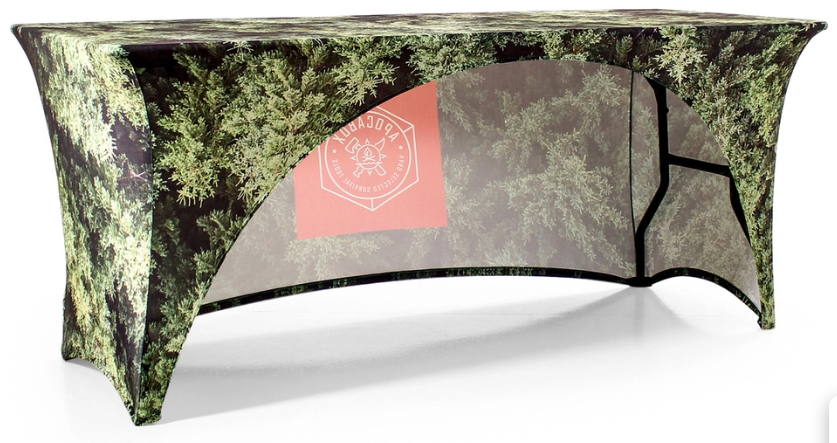 Printing Options
Next up, you'll want to consider how you'll print your logo to ensure your message looks great!
Here are some things to think about with your printing options.
Color
The type of printing process used to create your custom fitted table covers is dependent on the business you make your purchase through. Most use a process called dye sublimation. This involves flattening dye into the fabric and adding heat. Your table cover is then completely customized using a variety of colors of your choosing.
Color Imprint
This is a secondary printing option that uses Thermal Imprinting. Not nearly as customizable as dye sublimation but provides an excellent option. Designers use stock fabric color and then print your logo over top. Not nearly as polished as full-color printing options, this is a great option if you are after a cost-effective cover solution.
Cleaning & Care
The fabric you choose determines how easy it is to clean and care for your table cover. For example, if a coffee spills on your table cover, will it ruin it? It shouldn't if you choose the right fabric option. Spot cleaning your cover should be easy, so make sure the fabric selection you opt for is easy to clean.
Add-Ons
Once you've selected the right fabric, size, and color, it's time to think about how to enhance your trade show tablecloth. We love LED lights because they really make your table stand out. You can place them underneath or even inside your table cover to give off a lightbox effect that your guests will love.
Want more ideas on how to spice up your fitted printed tablecloths?
Then check out our top 5 product picks to complement your tradeshow or conference table covers!
5 Products to Complement Your Custom Fitted Table Covers
Get ready to rethink the way you look at your fitted printed tablecloths.
Check out the following 5 products to add style, branding, and professionalism to your next tradeshow booth!
Retractable Banner
A retractable banner is fully portable, professional, and affordable. It's ideal for tradeshows, exhibits, special promotions, and even setting up a booth.
What makes it so good as a complement for your custom fitted table covers?
First, it is a great way to store and save your custom-made banner from any weather-related issue.
Each of our retractable banners is printed high-end, fade-resistant, no-curl, matte material that lasts for years to come!
Weighing just 14lbs, it is easy to move from event to event.
Put your information on display with a colorful and attractively made graphic that compliments your table cover, with our retractable banner.
Pop-Up Event Tent
Is your event outside? Or do you plan on putting together a high-quality outdoor booth in a parking lot or somewhere else that you'll need cover? Then our pop-up event tent is a great item to use to complement your table covers.
Our trade show tablecloth solutions are powerful, but when synchronized with our pop-up event tent, they really pop!
Additionally, they are made from premium materials for fade-resistant logo protection that looks great for years.
You'll also get a wheeled carrying case for the 10 feet by 10 feet sized tent. Easily upload your artwork and we'll carefully put together your pop-up canopy and ship it right to your doorstep.
Table Runner
Want to add a bit more logo representation to your table? Then a table runner might be the perfect complement to your design!
A custom logo table runner is a great way to drive traffic to your business. First impressions are everything, and this table runner comes with full-color printing to make your business look amazing!
Our design team provides full support for uploading your artwork and logo to ensure that you get the most out of our table runner design.
Spice up your custom fitted table covers with our table runner!
Full Backdrop
Want something really eye-catching for your next event or tradeshow?
Then our full backdrop might be the perfect option!
Create an immersive event for visitors to your tradeshow booth with a fully printed booth backdrop! Fitted printed tablecloths are only part of the setup for a professional-looking tradeshow booth.
Our backdrops emphasize your business logo and are unforgettable for potential clients and customers. They are an excellent way to highlight your logo and complement your tablecloths.
Customized Director Chairs
Customized director chairs are a great way to really show off your logo! Use them for guests to sit in while you demo your product or use them for your team when they're not standing to show off your business.
Pull your entire design together with a beautiful pair of director chairs complete with your business logo.
Call to Action:
Get the right display materials today!
Reach out to our team today to get more information about how we can transform your next tradeshow into a beautifully designed, and perfectly advertised, event. We can help you choose the right products from the list above, and even recommend printing and color options.
Email our team or simply place your order and make your next event one to remember.