Roll Up Banners are a Trade Show Necessity!
A roll up banner solves one of the most frustrating problems for display marketing - safe storage. Too often, the items used to dress a booth at a trade show or call attention to the table at a job fair look fantastic when on display, but have no effective approach to storage. Many businesses end up with a closet piled high with trade show banners and the paraphernalia needed to set them up. The situation becomes even worse when multiple different banners and table signs are needed. Trying to find just the banner you need out of the mess in the storage closet can be a huge headache. Retractable banners change all this.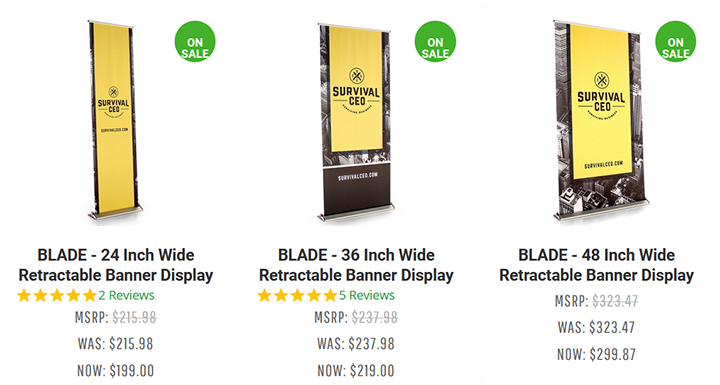 INGENIOUS Roll Up Banner Design
The genius of a roll up banner is that it retracts into its own base, clipping into place for the neatest possible storage. That base can then be easily slipped into a nylon carrying case for easy transportation. All of the pieces necessary to support the banner when completely unfurled will also stow away neatly in the case. Multiple banners can easily stack into a very small space. Placing labels on the cases will make it very easy to find exactly the banner you need. In addition, the banners roll up and out of the case with ease - a single person can easily set one up in less than a minute.
A Roll Up Banner will Last for Years
Another really great feature of a roll up banner is its longevity. The unique storage method means that the banner is kept dust free and is not exposed to harmful light while it is being stored. Also, since it is rolled, not folded, it will not crease or crimp. The bright and dynamic image will stay like new for years. Every time you set the banner up it will look great. Not only is it convenient to store, but storage no longer adds additional wear and tear to the banner.
The invention of the roll up banner has changed world of trade show display marketing.
No longer does it make sense to buy the cheapest possible banner so that you can dispose of it after the show.
No longer will storage or transportation be a major problem.
Now you can have top quality banners made because you will be using them over and over again for a long time to come.
Find out about the many new options available in display marketing for the tabletop or the floor at: www.custombannerlab.com.