In a hurry? Use POP UP DISPLAYS
Pop up displays can save critical time when you are in a rush. Although we all have the best of intentions to leave ourselves plenty of time for set up at trade shows, job fairs, festivals and conferences, real life often intervenes and we can find ourselves with less time to set up than is optimal.
Although better organization beforehand can help ensure there is enough time for set up, many things are beyond your control. There are some things it is impossible to plan for. This is where efficiency steps in. If you have a quick and efficient set up in place you will be able to deal with the delays and unexpected problems that arise.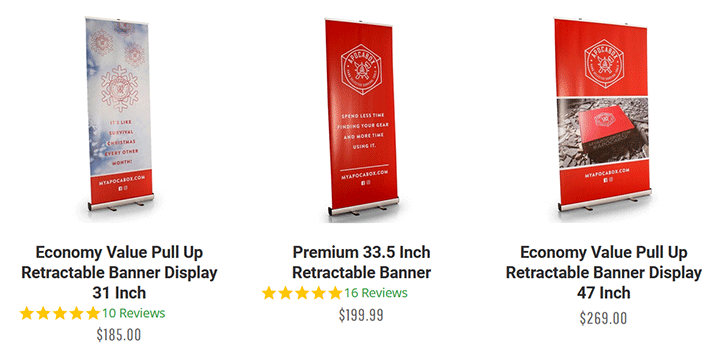 The Tradeshow Solution when you're in a hurry.
Pop Up Displays can be a critical part of a quick and efficient set up. One of the things that makes retractable banners work so well is the fact that they are self contained and they stand on their own. This means that your display banners are no longer manufactured for a specific table or booth size. You have more flexibility to make your display area personal no matter what its size.
If all you have is a table a banner set at either end works perfectly. If you have an entire booth set two banners to act a "pillars" at the opening of the booth. No matter how you set them, they will set up easier, and tear down quicker than any form of display banner you have ever used.
One of the other benefits of Pop Up Displays is the ease of transportation and storage that is inherent to the form. Pop up banners retract into their own base and then slip easily into a nylon carrying case. Any additional braces, hooks and supports will also fit into the case. The entire display can then be easily picked up and slung across a shoulder for transport. Storing the banners in this matter is also great, because they will not get dusty or suffer any fading.
Every time you unfurl your banner it will look as great as it did the first time. Whether you need to set up in a number of different configurations throughout the year, or just attend one big trade show, you can't beat the ease and convenience of pop up displays.
Trade show floors are all different, conference spacing changes from event to event. With a pop up banner from www.custombannerlab.com you will be ready for any situation.