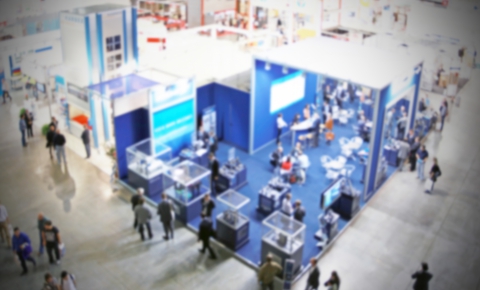 In a previous post, we discussed three ways that any type of company could boost their chances of having incredible success at an industry trade show. Those ideas included hosting a portable charging station as part of your trade show display so people would be compelled to spend extra time at your booth waiting for their phone's to gather juice. We also explored the idea of handing out something clever and mysterious the night before the show so that people would be eager to visit your booth first thing in the morning.
Now we're back with even MORE unique marketing ideas that will help you create an epic trade show display. When paired with the custom vinyl banners, canopy tents, table covers, and custom backdrops we provide here at Custom Banner Lab, you're sure to meet all the sales and interaction goals set for any trade show event.
Tempt Them With Toys
Some trade shows are specifically designed for industry insiders, while others are open to the public. In most cases, people come with their families looking for free samples and contests they can enter. If your company caters to families, providing toys and a play area can be a great way to get their kids' attention. And where the kids go, the parents follow!
Give Out Snacks
Everyone loves free food. Consider incorporating a popcorn machine into your trade show display. The smell will attract people far and wide, while providing a chance for you to dispense popcorn in branded bags or cartons that they'll then carry around the entire show. Free advertising!
Hire Sign Twirlers
Don't forget that you also want to attract people who are outside the trade show and might not even know that an event is taking place that day. Hiring a few sign twirlers to stand on popular street corners with a sign that directs people to your booth is a great way to entice new customers.

If you're still in the planning stages, don't forget to check out all the custom printed supplies we can create for your trade show display!