Logo tablecloths for tradeshows are an essential marketing tool for any brand or business setting up a booth at a live event. This is the most basic piece of customized tradeshow marketing material there is and it can be ordered in just a few minutes from our website. You can order logo tablecloths for tradeshows at this link: https://www.custombannerlab.com/logo-custom-table...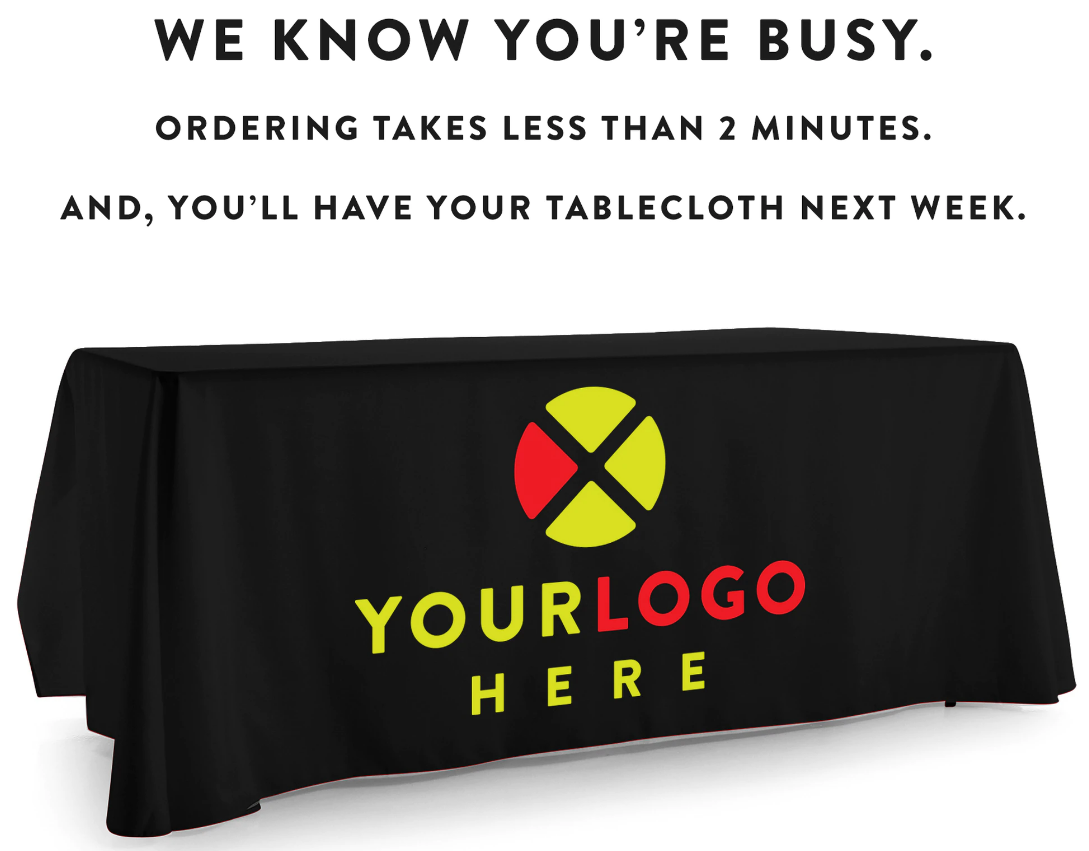 Below are a few things you need to know about ordering logo tablecloths for tradeshows.
Tablecloth Size
Tablecloths are made to fit specific size tables. The standard tradeshow tablelcoth is 30" high x 30" deep by either 6 or 8 feet wide. The most popular table size is 8-feet wide. However, if you're not sure of the table size or if you'll be using your logo tablecloth at multiple tradeshow venues then we would suggest getting a tablecloth made for a 6-foot wide table. 6-foot tablecloths look great on a 6-foot wide table but also look really good on an 8-foot wide table. It is only a little short on each side. An 8-foot tablecloth, on the other hand, does not look good on a 6-foot table because it piles up on the ground on each side. Bottom line, the most flexible logo tablecloths for tradeshows are ones made for 6-foot wide tables. Check out our line of logo tablecloths here:
https://www.custombannerlab.com/logo-custom-tablecloths/

Delivery Time
If experience tells us anything, you're likely in a hurry to receive your tablecloth. The good news is that completely custom logo tablecloths for tradeshows only take 5-7 days to receive. We're used to working on tight deadlines in the tradeshow tablecloth business. Below is a bulleted time-lime of what to expect when ordering a logo tablecloth from CustomBannerLab:
Place your order online: https://www.custombannerlab.com/logo-custom-tablecloths/ (2-mins)
After checkout, you'll receive an order confirmation with your ARTWORK UPLOAD LINK (1-minute)
As soon as you upload your logo, one of our Graphic Designers will begin making your digital template to approve (< 24-hours)
Once you approve the digital proof, your tablecloth will go straight into production and will arrive in 5-7days.
Logo File Types
When uploading the artwork for custom logo tablecloths for tradeshows, it's important to know that we need a VECTOR format of your logo. The file extension of this file will typically be .PDF or .EPS. We can use a .JPG or .GIF file but we will have to redraw the artwork to make it vector. There is a $25 extra fee to do this. However, a vector file is one your should have anyway and we are happy to provide it to you after your job is completed. Custom logo tablecloths for tradeshows only look as good as the artwork provided and we will take every measure possible to make sure your logo looks awesome on your new tablecloth.
Washing Instructions for Custom Logo Tablecloths
Our logo tablecloths for tradeshows are printed using a process called dye sublimation. The great news about this state-of-the-art printing process is that it is 100% machine washable. AND, you can iron it without any problems too. Your custom tablecloth is bound to eventually get dirty while attending events. No worries - you can wash it when you get home and be confident that it will look just as good as the day you got it. Our 100% polyester fabric is also wrinkle resistant which will really help your tablecloth look good for years to come, even after travel.