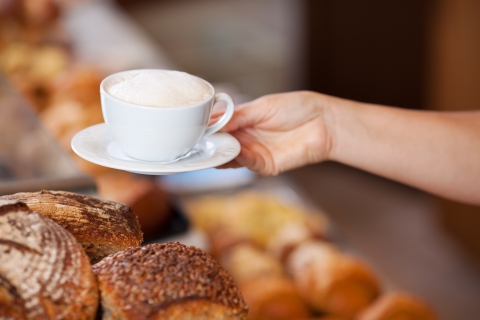 Does your company make a delicious food product? Do you perform a service for people in the food industry, or design a product that's meant to be used by foodies? We don't need to tell you how valuable a trade show experience can be for your brand. There's no better way to get your product or service in front of tons of potential customers, vendors, and distributors at once.
So how are you going to set yourself apart from the crowd? At Custom Banner Lab, we offer many of the marketing materials you need to create a visually pleasing trade show display for attendees. Whether you need a custom canopy tent, a custom backdrop, or custom printer tablecloths, our top quality supplies will definitely show off your professional side. We've also got a few creative ideas that can help make your booth a destination people will want to revisit again and again.
Set It Up Like A Store
If you're marketing a product that will be sold in grocery stores, why not set up a booth that allows people to "shop" for it? You can use several different types of shelving to not only display the variety you offer, but also to show off your branding. Having lots of beautiful labels faced out into the crowds will create a pleasing overall effect for your trade show display.
Set It Up Like A Restaurant
Are you marketing a product that's meant to be distributed at restaurants or cafes? You might want to consider creating a trade show display that mimics a miniature restaurant. A table capped off with one of our custom tablecloths is the perfect place for attendees to rest for a second, and when they do, you can offer them brochures, a demonstration, or even a small taste of your products.
Offer Samples
Nothing attracts attendees like free food! Just be sure to put samples far enough inside the booth that you'll have a chance to interact with potential customers, and add a card or flyer to their bag as well.