The perfect tradeshow booth backdrop needs to tick a lot of boxes: attract attention, tell a story, translate your professionalism, and never slow you down. A fabric backdrop is the preferred choice for recruiters, tradeshow exhibitors, and live event presenters, but it's important to purchase the right one. How do you sort through all the options?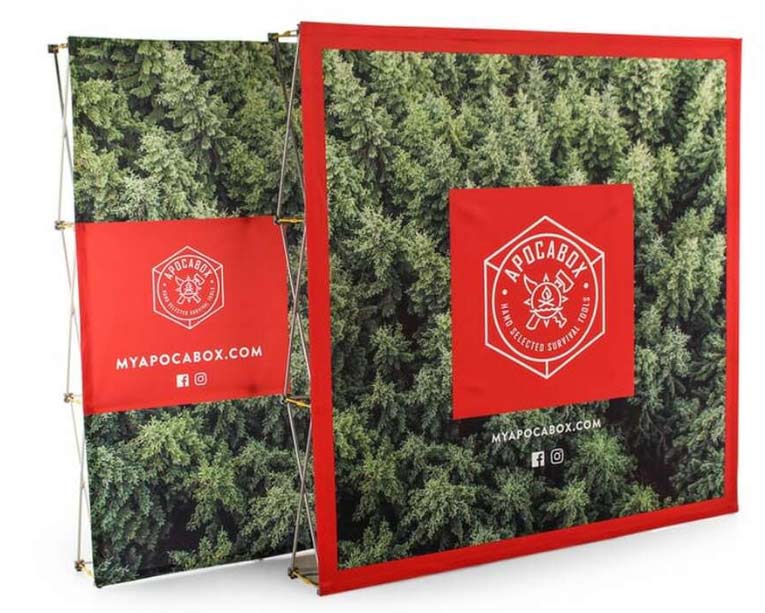 Consider these must-have features and product details before investing in your new tradeshow display:
1. 2-Minute Setup
Focus on your presentation, not your booth. The perfect step-and-repeat stand should be super easy to set up by yourself without any tools or helping hands. Whether you're running late for the event or you're ahead of schedule, a pop-up display allows you to set up a professional, polished backdrop in less than two minutes.
Look for a system with adjustable feet to create a level display, even on slanted or uneven flooring. Push-button connectors are the best frame locking mechanisms because they snap together with a touch and are just as easy to take apart after the event.
2. Premium Fabric Finish
Common step-and-repeat banner materials include vinyl, canvas, foamcore, and posterboard, and each one offers a unique set of benefits: thick canvas stands up against harsh backlighting, posterboard is rigid, and vinyl is weatherproof for outdoor events. However, unless you have a unique set of environmental requirements, you'll be better off choosing a more modern fabric.
Polyester knit is the best all-around fabric choice for your tradeshow booth backdrop. It's:
- Soft, stretchy, and wrinkle-resistant
- Easy to illuminate without a reflective glare
- Super lightweight and easy to transport
- Perfect for high-definition, full-color sublimation prints
3. Small Floor Footprint
Maximize the floor space in your tradeshow booth to display more products or invite guests in for a conversation. Many pop-up display stands are bulky and difficult to position with wide stabilizing feet or a deep, cumbersome frame.
Your fabric pop-up display should have an integrated frame that is fully hidden behind the step-and-repeat banner. Ideally, the narrow profile should take up no more than one foot of space so that you're not limited on setup options. Anodized aluminum frames are the preferred choice because they're reliable and strong without compromising on space or weight.
4. Ready for Travel
If your fabric pop-up display doesn't come with a carrying case, it's not the right choice. Should a small accessory like this really factor into your decision? Yes! As a tradeshow or live event presenter, you deserve to get to the event, set up, and pack up with ease. Plus, a durable carrying case is the best way to protect your investment.
With an aluminum frame and lightweight polyester fabric, an 8-foot tradeshow booth display can weigh as little as 22 pounds! Rolling and ready-to-ship cases make setup even easier, so check with your banner manufacturer to ask about user-friendly travel accessories.
5. Professional Design Support
Do you already have your artwork designed? Perfect. If not, your tradeshow banner printer should be able to help. After all, this is their area of expertise – it's their job to make your booth look great and stand out! For a realistic timeline, you should expect the company to deliver a mockup within 48 hours and complete your ready-to-print design within three business days.
Plus, with the right design partner on your side, you can easily create mix-and-match pop-up displays. Many step-and-repeat stands are locked onto the frame, but it's even better if you can swap out the fabric front. Look for a detachable Velcro system that allows you to maximize your investment and change the display over time.
Custom Banner Lab delivers on every detail, and our pop-up tradeshow booth displays are designed with you in mind. Order our most popular 8 x 8-foot backdrop display, go bigger with a 10 x 8-foot banner, or step up your showcase with a 5 x 5-foot table pop-up.