33% of consumers start their mobile research on a branded website. In fact, brand recognition drives high sales in the United States. Products like Coca-Cola, Facebook, and Nike can all be immediately identified by their brand logo. Maintaining a consistent brand can help to increase product and company recognition as well as increasing customer loyalty and trust.
A company's brand consists of their name, logo, font choices, colors, imagery, and so much more. Brand even extends into uniformity across interactions. In the best cases, a company's brand and style of doing business is derived from a personal story they help illustrate values the business holds to. The one rule about creating and maintaining a brand is consistency. Be consistent in the usage of brand elements across your company. Consider the fact that color increases brand recognition by 80%. Knowing your company's two or three colors and utilizing them in the exact tone with no change to tint or shade will increase a company's brand consistency.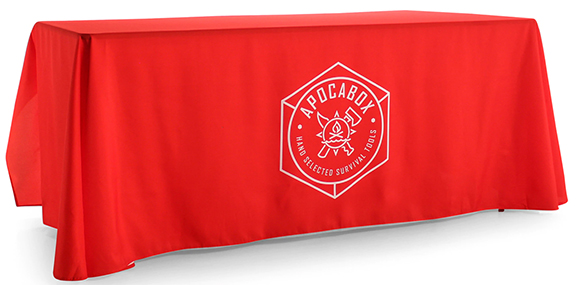 Presenting your brand to customers at promotional events like dog shows, rodeos, motorcycle rallies, any place you can sell your product outside of a brick and mortar location, can be tricky. Custom Banner Lab prints unique custom tablecloths that showcase your individual company logo and provide valuable flexibility to companies that travel. Utilizing a high-quality custom tablecloth helps increase your brand recognition and provides a simple way to display your products in a mobile environment. Our products are stain and wrinkle-resistant as well as easy to wash. They come in a variety of colors to fit your needs and as always, our professionals are focused on giving you the best quality printing for your product.