5 Things You Need to Know Before Ordering Your Custom Tablecloth for Tradeshow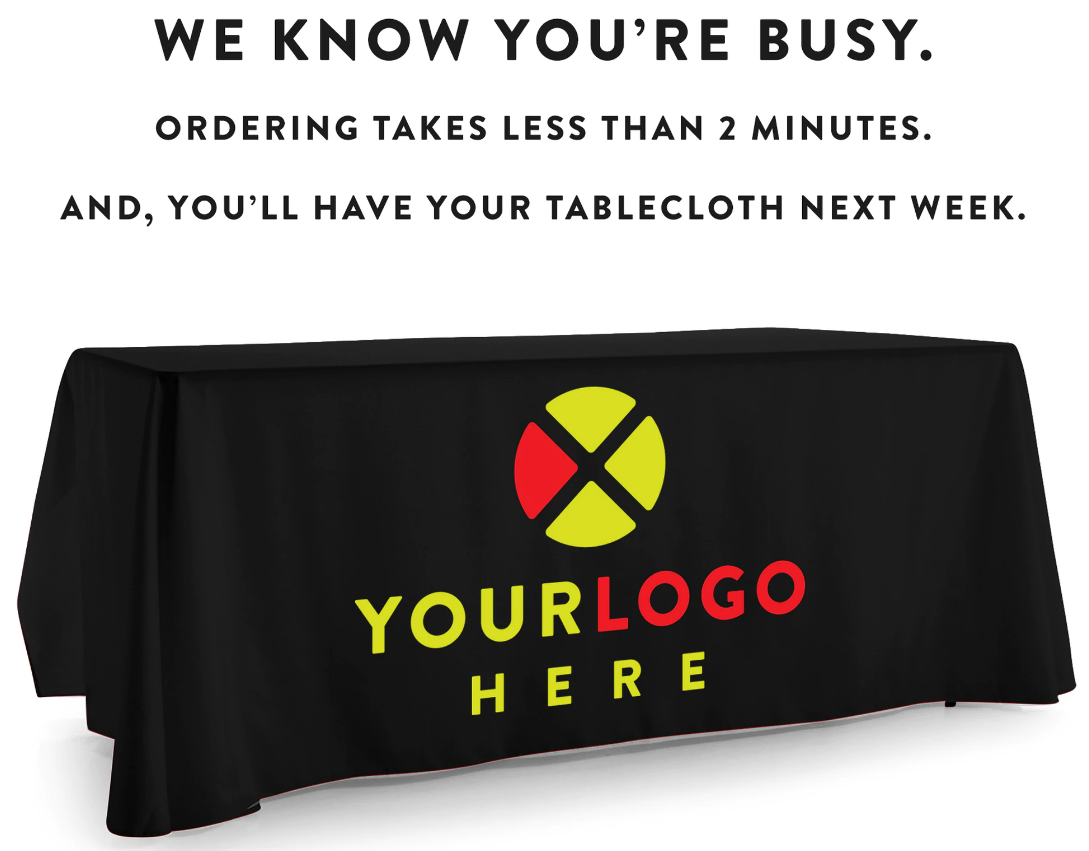 1: Every Custom Tablecloth for Tradeshow is Made-to-Order
Custom tables aren't a "stock" product, so you'll need to think ahead when ordering. While our production time is very fast, it does take 5-7 days in order to receive your custom printed logo tablecloth. When you place your order online, our designers will create a digital e-proof of your custom tablecloth for tradeshow. This will be a digital rendering of exactly what your logo tablecloth will look like when you receive it. One you approve this e-proof, you tablecloth with go into the printing process and finished within 2 business days.
Watch the video below about our Custom Tablecloth for Tradeshow!
2: Ideally, You'll Need a VECTOR EPS File for Your Logo
In order to get crisp, clean lines during the printing process of your custom tablecloth for tradeshow, we will need a VECTOR EPS file of your company, brand, or organization logo. If you do not have this, please request it from your graphic designer. If an EPS Vector File isn't available, we can recreate one for you from any image file, but it will require a $25 logo redraw fee and will add 1 day to the production timeline of your custom tablecloth for tradeshow.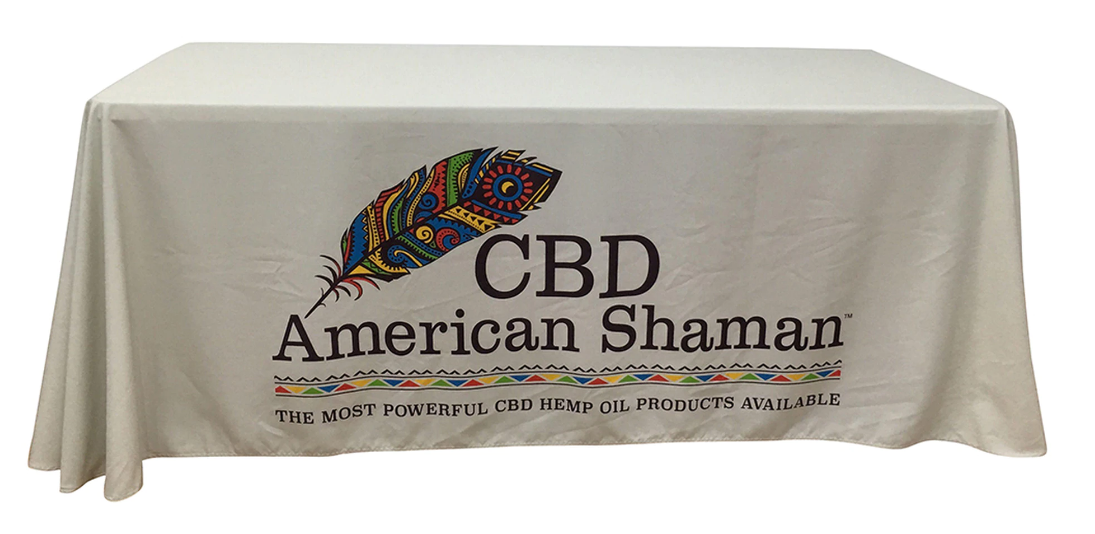 3: You'll Upload Your Artwork AFTER You Place Your Online Order
When it comes to sending us your artwork to go on your custom tablecloth for tradeshow, you'll actually upload this AFTER you place your order online. We will include an ARTWORK UPLOAD link in your order confirmation email. Simply click on it, paste in your Order # and hit submit and one of our graphic designers will start working on your digital proof right away. If you want to see what your custom tablelcoth for tradeshow looks like before placing your order online, you can request a Custom Tablecloth Logo Digital E-Proof here: https://www.custombannerlab.com/free-e-proof/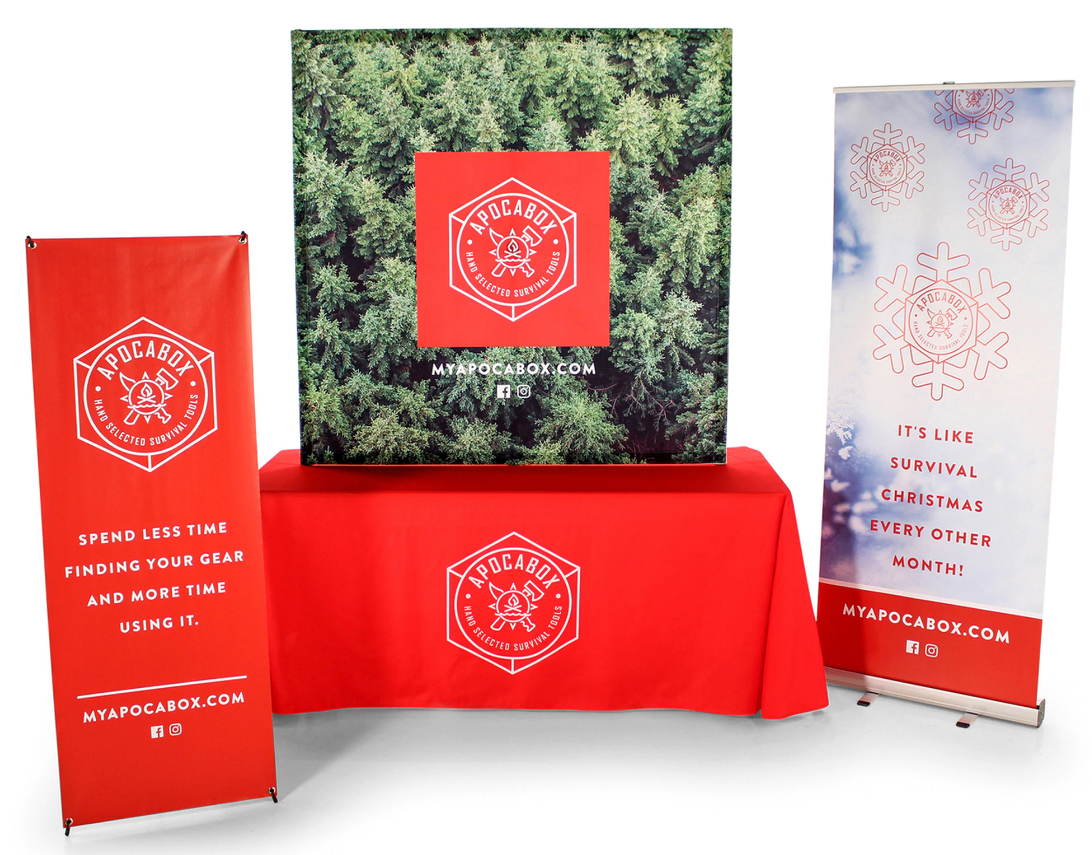 4: Custom Tablecloth for Tradeshow Printing Process
Many customs ask what kind of printing process we use when making custom tablecloths for tradeshows. It is a start-of-the-art printing process called Dye-Sublimation. This allows us to print full photographic quality images at no extra cost to you. Whether your custom logo tablecloth has 1-color or 500-colors, the cost is the same and it is no extra effort for us or our printers. Dye-sublimation creates beautiful, vibrant colors that will give your custom tablelcoth for tradeshow a professional appearance.
5: All of our Custom Tablecloths for Tradeshows Come with Our 100% Satisfaction Guarantee
We realize that you have many options when it comes to ordering tradeshow tablelcloths with a company logo. We want you to know that your happiness and satisfaction is our top priority and your order for a custom logo tablelcoth is backed by our 100% Satisfaction Guarantee. This means that if you aren't happy we will either refund your money OR remake your custom tablecloth for tradeshow to meet your satisfaction.
To place your order and get your custom tablelcoth for tradeshow into production right away, please visit this link:
https://www.custombannerlab.com/logo-custom-tablecloths/