Custom Outdoor Advertising Flags are everywhere. From between 9 and 15 feet tall, they're hard to miss - even when driving down the road. In this article, we'll discuss a few things you need to know when buying, designing, and installing a custom outdoor feather flag for your business.
1. Custom Feather Flag Sizes and Styles
Outdoor Advertising Flags (also known as custom feather flags) are available in a variety of sizes and styles. You can choose from 9 foot, 13 foot, and 15 foot tall. All of the flexible poles break down for easy shipping and transport. This flexible frame is lightweight and makes the custom feather flags very simple to assemble.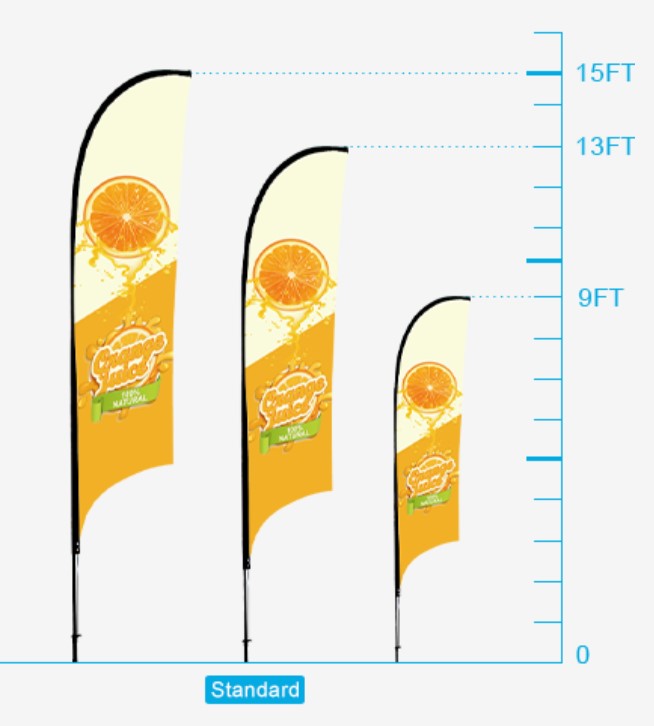 Custom Feather Flags are also available in 3 styles: Angled, Tear Drop, and Concave. The style is only personal preference. There is no functional difference between them. Our most popular feather flags for sale are the Angled Razor Feather Flags.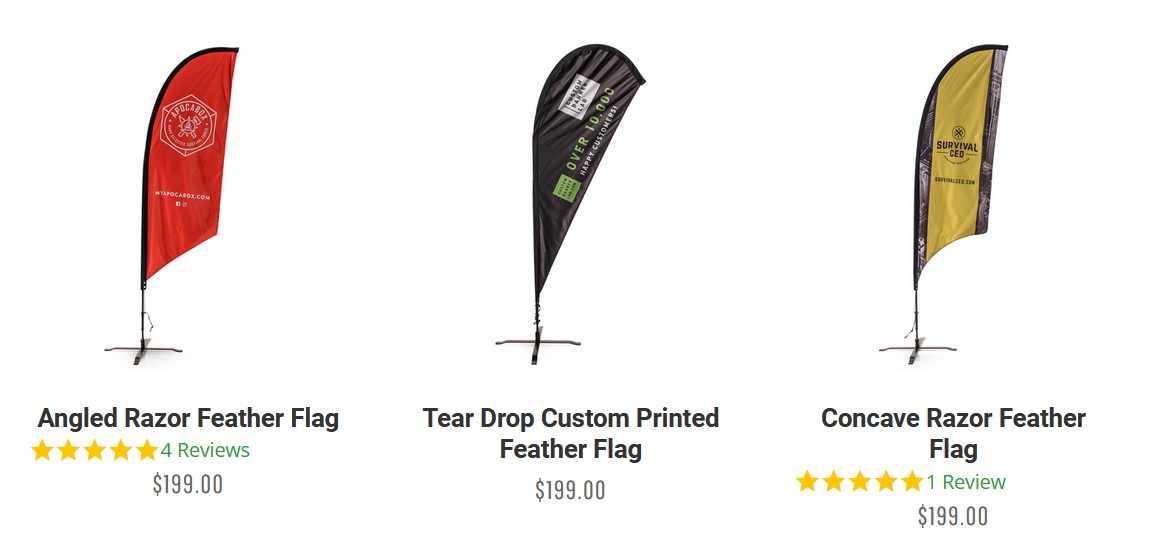 2. Outdoor Advertising Custom Feather Flag Accessories
To make things simple, and to give you the most flexibility, all of CustomBannerLab's custom feather flags include a canvas carrying case, a flexible pole for mounting the flag, a ground spike for using outside, a metal cross base for setting up the flag indoors, PLUS a weighted water bag to place around the cross base for stability. With these accessories, you'll be all set to go no matter where you want to set up your business advertising custom feather flag.

Watch how simple the CROSS BASE setup is in our product video below:
3. Outdoor Advertising Custom Feather Flag Design
We've printed 1000s of custom feather flags for organizations all over the world. The best ones are the simplest ones. Advertising Custom Feather Flags are designed to grab attention with SHORT, CONCISE MESSAGES. They are not meant to provide detailed descriptions such as product details. Focus on 1-3 word headlines such as "ENTER TO WIN," "SALE TODAY," "OPEN NOW," "NEW LOCATION," etc. These custom feather flags are best utilized to grab sudden attention and give clear information. Try your best not to jumble them up with fancy graphics, lots of text, or tiny details. Think BIG, BOLD, and CLEAR!
To help you in the design process, we have downloadable design templates available for all of our custom outdoor advertising feather flag sizes and styles. You can find them on the individual product pages here:
ANGLED CUSTOM FEATHER FLAG: https://www.custombannerlab.com/angled-razor-feather-flag/
TEAR DROP CUSTOM FEATHER FLAG: https://www.custombannerlab.com/tear-drop-custom-printed-feather-flag/
CONCAVE CUSTOM FEATHER FLAG: https://www.custombannerlab.com/concave-razor-feather-flag/
4. CUSTOM FEATHER FLAG PRODUCTION LEAD TIME
Another important detail to understand is that all of our custom feather banner flags are made to order. When it comes to production and shipping, you can expect to receive your business flag in around 7-9 business days from the time you place your order and approve your artwork.
If you have any questions at all about lead times or production details, OR to order BULK quantities of custom feather flags, please reach out to us at 317-956-3898 or customerservice@custombannerlab.com or LIVE CHAT in the lower right had corner of the website.
5. Custom Feather Flag Uses and Purpose
According to the International Sign Association, signs have three main roles in marketing. Our custom outdoor advertising flags certainly fit into all 3 of these roles detailed below.
#1. Acquire new Customers
People move around now more than ever which means you have customers moving away and potential new customers moving into the area.
People's needs change through their lives as well.
Even if you never lose a customer (which will never happen), you want to grow your business and so have to get new customers.
Exterior signs function to tell people what you are, what you sell and, of course, where you are.
#2. Branding
People know you by your brand.
Your signs take your brand to the people, through exterior signs, interior signs alerting people of sales and departments and tradeshow banners that show off your service or goods.
#3. Create Impulse Sales
Impulse buys can happen when someone pulls over because they have a few extra minutes and have your sign appeals to them.
They could have been thinking about a product and finally decide to go into your store for a look.
Even if you don't make a sale that day, if you are able to get their information, you can keep in touch, and have your sign to credit for the contact.
Custom Banner Lab is your ally in marketing. Whether you are setting up a trade show booth and need one of our sturdy, easy-to-set--up and break down retractable banner stands or a custom logo tablecloth, we've got what you need. We also make custom vinyl banners of many sizes for the exterior and interior of your store.